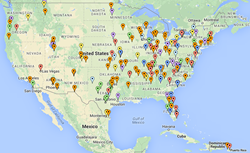 "Quarter after quarter the American contact center industry continues to grow," stated Matt Zemon, Chairman of jobs4america and CEO of American Support.
Chapel Hill, NC (PRWEB) April 20, 2015
Between January 1, 2015 and March 31, 2015, jobs4america recorded 13,669 new US jobs announced by the contact center industry. After accounting for 5,704 lost jobs due to call center and closures, there were still 7,965 net new US contact center jobs created.
"Quarter after quarter the American contact center industry continues to grow," stated Matt Zemon, Chairman of jobs4america and CEO of American Support. "This quarter we once again recognize AAA for their continued job creation as well as BPO's like Convergys, HGS and Teleperformance for continuing to promote the value of US-based sales and customer service to their clients."
Jobs4america uses data compiled by Dallas-based Site Selection Group to record US job creation. For quarter four, the results are:
January 1, 2015 through March 31, 2015 Top 10 US Site Expansion/Openings:
1. Corporate Call Center (1,400 in Blue Bell, PA)
2. Convergys (1,000 in Phoenix, AZ)
3. HGS (750 in El Paso, TX)
4. Teleperformance (750 in Louisville, KY)
5. Startek (682 in Hamilton, OH)
6. AAA (600 in Clearfield, UT)
7. Servico (400 in Rockford, IL)
8. Convergys (400 in Watertown, NY)
9. Moneypenny (400 in North Charleston, SC)
10. Firstsource (350 in Eugene, OR)
January 1, 2015 through March 31, 2015 Top 10 US Site Closures/Downsizing:
1. Maximus (1,500 in Bose, ID)
2. Wells Fargo (1,000 in Milwaukee, WI)
3. Sitel (675 in Augusta, GA)
4. Nationwide Insurance (600 in Canton, OH)
5. Nationwide Insurance (340 in Lynchburg, VA)
6. Sitel (278 in Painted Post, NY)
7. NCO (270 in Lenexa, KS)
8. iQor (251 in Pueblo, CO)
9. NCO Group (179 in Kansas City, MO)
10. Strategic Fundraising (100 in Springfield, MO; Closed)
About jobs4america: Founded in 2012, jobs4america is a coalition of forward-looking business leaders committed to creating jobs in America. In their first two years, jobs4america was able to create more than 176,000 new U.S. based contact center jobs, exceeding their original 100,000 job goal. Jobs4america advocates the value of U.S. based workers to enhance customer experiences and the U.S. economy. Jobs4america's current goal is to create another 100,000 new U.S. based contact center jobs by December 31, 2015. Jobs4america invites like-minded companies, big and small to join in their goal of creating U.S. based jobs. For further information visit: http://www.jobs4america.net
About Site Selection Group, LLC:
Site Selection Group is a leading location advisory and economic incentives firm specializing in call center site selection services. They provide four core services including location advisory, economic incentive services, real estate services and economic development consulting. Through the utilization of cutting-edge databases and analytical tools, their experts can maximize the efficiencies of location decisions for corporations around the world. For additional information, please visit their website at http://www.siteselectiongroup.com or contact Jeff Sheehan at 214-271-0565