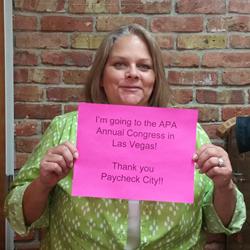 I'm so excited, I haven't been able to sit still since I received the phone call!
Scottsdale, AZ (PRWEB) April 20, 2015
Symmetry Software, specialists in payroll withholding tax software for large employers and service providers is proud to announce Mrs. Teresa Salsbury as the winner of the APA National Congress Giveaway! Mrs. Salsbury is a Payroll Coordinator for the Good Samaritan Society and resides in a small suburb of St. Paul, Minnesota.
"I'm so excited, I haven't been able to sit still since I received the phone call!" Teresa is eager to start registering for classes to attend at Congress, and looking forward to the warm weather in Nevada – a big change from the winter she had in Minnesota this year!
Teresa is a Payroll Coordinator at the Good Samaritan Society in Stillwater, Minnesota. She has been working in payroll since 1986 and became a CPP in 1999. With experience in both payroll service bureaus and in-house, in industries ranging healthcare, hospitality, financial, and government, she is truly an expert in the industry. She loves being able to ensure that the employees she provides service to can do their job, without the stress of worrying about getting paid correctly.
Symmetry Software is excited to present Mrs. Salsbury with an all-expenses* paid trip to the American Payroll Association National Congress. Her prize includes a flight to and from Las Vegas, her hotel room paid for, a Visa gift Card, and select Payroll Goddess merchandise.
At the APA National Congress, Mrs. Salsbury will have the opportunity to attend workshops, network with other payroll professionals, and receive recertification credits. She will be able to choose from more than 175 workshops and earn up to 26 RCHs, 2.6 CEUs, or 26 CPE credits. Congress is the largest payroll, accounts payable, and finance expo in the world, with over 100 exhibitors, and 2,500 attendees.
About the American Payroll Association
The American Payroll Association (APA) is the nation's leader in payroll education, publications, and training. The nonprofit association conducts nearly 500 payroll training conferences and seminars across the country each year and publishes a complete library of resource texts and newsletters. Every year, more than 69,000 professionals attend APA training sessions. Representing more than 20,000 members, APA is the industry's highly respected and collective voice in Washington, D.C. Visit APA online at http://www.americanpayroll.org.
About Symmetry Software
Symmetry Software simplifies the payroll process with accurate and dependable payroll withholding tax solutions. From Payroll Point®, our local tax identifier, and Symmetry Payroll Forms™, electronic withholding forms, to the Symmetry Tax Engine® and PaycheckCity® Calculators, our products give you the right taxes, the first time®.
*terms and conditions apply