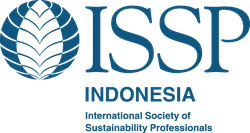 The Asia-Pacific region is ripe for the opportunities that embracing sustainability can bring.
Hartford, CT (PRWEB) April 20, 2015
In partnership with its Indonesia Chapter, the International Society of Sustainability Professionals (ISSP) will offer face-to-face training in Jakarta, Indonesia on August 18-22, 2015. This week-long training session includes five of the eight courses required for the ISSP Certificate Training Program, which blends sustainability concepts and practices with organizational change theory to provide participants with the leadership skills and knowledge to lead a sustainability program.
The five courses to be offered in Jakarta this summer are:

Strategy Tools for Sustainability Transformation
Leadership Skills for Change Agents
Sustainability Planning and Reporting
Sustaining Sustainability
System Integration with S-CORE(TM)
Participants from all Asia-Pacific countries are encouraged to take advantage of this opportunity to learn in live sessions taught by three members of the ISSP Leadership Team, including ISSP President Julian Crawford, ISSP Board Member and Co-Founder Marsha Willard, and ISSP Board Member and Past President Dorothy Atwood. All courses will be conducted in English.
Included in the course fee is an optional dinner meeting and a site visit to a community whose residents have applied sustainability practices in their daily lives. A free Basic Sustainability course will be provided one week prior to the program for participants who need to meet this course prerequisite. The Basic Sustainability class will be taught in Indonesian.
"We're very excited to be partnering with our Indonesia chapter to bring these foundational courses to members in a face-to-face format for the first time ever," says Julian Crawford, President of ISSP and a director of Ernst & Young in Sidney, Australia. "The Asia-Pacific region is ripe for the opportunities that embracing sustainability can bring. We're happy to be a part of efforts to accelerate such changes in this part of the world."
Maria Dian Nurani is an independent CSR and sustainability management consultant based in Jakarta, and is the Secretary General for the ISSP Indonesia Chapter. "It's an honor for us to host the first time ever face-to-face ISSP workshop training in the Asia-Pacific region," says Maria. "Having ISSP's basic yet practical module on sustainability management in this upcoming event is just the right thing at the right time for us to promote sustainability in this part of the world."
In 2013, the ISSP Indonesia Chapter organized and hosted the Indonesia Sustainability Forum, which attracted more than 150 participants from businesses, governmental bodies and NGOs in the region.
About the Courses
Here's a quick look at each of the five classes to be offered in Jakarta:
Day 1: Tues, Aug 18 - Strategy Tools for Sustainability Transformation. This course reviews the concepts, principles and key issues of sustainability. Participants will develop competence in three basic frameworks for defining sustainability. In addition, the workshop will explore the power of systems thinking and provide participants with the basics necessary to tackle complex problems.
Day 2: Wed, Aug 19 - Leadership Skills for Change Agents. The Leadership Skills for Change Agents course prepares sustainability professionals at any level in the organizational hierarchy, or as an external consultant/advisor, to lead an organization to become a sustainable enterprise.
Day 3: Thurs, Aug 20 - Sustainability Planning and Reporting. ISSP's SPaRK course will walk participants through the steps of creating a comprehensive sustainability plan, from justification for their sustainability efforts, through impacts assessment and determination of measures. The resulting plan also sets up participants for reliable and pain free reporting. By end of the course, participants will have developed a "draft" plan and will experience applying each of the key steps of the process. Participants will be provided a trial version of the SPaRK tool which is an Excel based file that includes the worksheets and data entry tables for recording key planning decisions.
Day 4: Fri, Aug 21 - Sustaining Sustainability. Management systems are the key to ongoing progress. An SMS (sustainability management system) allows for systematic internal review, monitoring and corrective actions for continual improvement. This course will walk participants through the creation of such a system to fit their needs. Sustainability professionals don't need a third-party certified ISO 14001 management system to benefit from the Plan-Do-Check-Act framework. Course participants will learn what level of sophistication works best for them and what elements to add as their system matures. Participants will complete the course having learned practical methods to solidify and advance sustainability efforts by applying proven management system tools, practices and competencies.
Day 5: Sat, Aug 22 - System integration with S-CORE. This course prepares sustainability professionals to be familiar with the S-CORE™ assessment process so they understand how organizations need to progress on the path to sustainability, identify new opportunities and develop a plan for the next stage of the journey. Participants will learn how to use S-CORE™ for organizations at all levels of sustainability implementation, from organizations newly embracing sustainability internally to sustainability leaders who are engaging customers, suppliers and other stakeholders and seeking to change their industries and regions.
To see full course descriptions and to register for the Five Course Training Package, please visit http://bit.ly/1JEgi7p. To sign up for classes individually, please visit the ISSP Events Page and click on 'more info' or 'register now' for the individual classes you wish to attend.
Early bird pricing for the Five Course Training Package is available through July 17 of $2,250 USD for ISSP members and $2,650 for non-members. Regular pricing of $2,500 for ISSP members and $3,000 for non-members goes into effect on July 18.
About the Instructors
Marsha Willard, Ph.D. is founder of AXIS, a consulting firm founded in 1990. Marsha applies her management consulting, training and facilitation skills to help organizations find responsible solutions that meet all stakeholder needs: owners, customers, employees, the community and the environment. AXIS is recognized for its expertise in the implementation of sustainability. Marsha has co-authored six popular business books including The Business Guide to Sustainability and A Step-by-Step Guide to Sustainability Planning.
Dorothy Fisher Atwood is the principal of her Oregon-based sustainability consultancy started in 2001. Dorothy has over 30 years of experience in management systems and sustainability consulting. Her focus is helping organizations integrate sustainability, energy performance improvement or environmental stewardship into their organizational fabric using management system tools (e.g. ISO 50001 or ISO 14001).
Julian Crawford is currently President of the Board of Directors of ISSP and is a Director in Ernst & Young's Sustainability and Climate Change practice in Sydney, Australia specializing in strategy, advisory, reporting and assurance. He has over 25 years industry and consulting experience across a broad range of sustainability issues. Julian has a science and business background. Having originally studied zoology at Oxford University, England, he then worked internationally as a Chartered Accountant. He has worked extensively on international sustainability initiatives including the Global Reporting Initiative, Global Footprint Network and The Natural Step.
About ISSP
The International Society of Sustainability Professionals (ISSP) is the world's leading professional association for sustainability professionals. ISSP is a member-driven association committed to moving the profession of sustainability forward through building strong networks and communities of practice. Webinars, online courses, a sustainability educational certificate, sustainability professional's body of knowledge, special reports, resource directories, salary surveys and development of a certification program for sustainability professionals are just a sampling of the rich content offered to members. Formed in 2007, ISSP boasts almost 1000 members from every region of the world. Members share resources and best practices, and develop themselves professionally. For more information about ISSP and its offerings, please visit http://www.sustainabilityprofessionals.org.