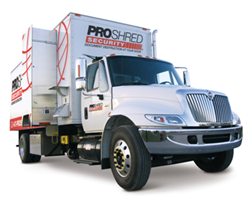 This knowledge and accreditation gives Ona the opportunity to better serve Proshred clients
Tampa, FL (PRWEB) April 18, 2015
PHOENIX, ARIZONA – In March, Mark Ona, Territory Manager for Hillsborough County, along with 11 other secure destruction professionals across the United States, earned the professional designation, Certified Secure Destruction Specialists (CSDS). He will now display "CSDS" as a professional title with his name.
Two exams were offered before the National Association of Information Destruction 2015 Annual Conference began ‑ one in Chicago, Illinois and another Grapevine, Texas. Of the 20 people who took the exam, Ona was amongst the 12 who passed.
The CSDS exam consists of 300 questions about data protection legislation and compliance, physical security, risk management, operations and records management. It establishes an individual's competency in seven subject areas.
To prepare for the exam, NAID provides a CSDS handbook on the NAID website, online training, and a sample exam.
"Congratulations to Mark Ona", said Mark MacMillan, President of Proshred Tampa Bay. "Passing this exam means Ona has a deep understanding of a wide range of industry and compliance issues that require lengthy and in-depth preparation. This knowledge and accreditation gives Ona the opportunity to better serve Proshred clients."
About Proshred
Proshred Tampa Bay is the region's leading secure information destruction service. Proshred, which is ISO 9001 and NAID AAA Certified, provides on-site document and hard drive destruction services to almost 5,000 offices and individuals throughout Tampa Bay.