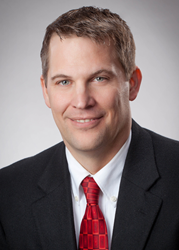 I am humbled and honored to serve as the Wyoming Republican Party Chair.
Cheyenne, Wyoming (PRWEB) April 20, 2015
Matt Micheli, a Holland & Hart attorney in the Cheyenne office, has been elected as the new chairman of the Wyoming Republican Party. As the chief executive officer of the Republican Party in Wyoming, he will carry out policies established by the constituents and state leadership. Mr. Micheli will also represent Wyoming on the Republican National Committee and work with Republicans from across the nation.
"We are extremely proud of Matt for winning a hard-fought election," said Patrick Day, Cheyenne Administrative Partner. "Matt's understanding of the statewide political landscape, coupled with his strong commitment to excellence, will serve the party well."
Mr. Micheli builds on a firm legacy established by fellow Holland & Hart attorney Tom Sansonetti, who formerly held the GOP Chairmanship from 1983 – 1987. Mr. Micheli is a member of the Environment, Energy, and Natural Resources group at Holland & Hart.
"I am humbled and honored to serve as the Wyoming Republican Party Chair," said Micheli. "I am grateful for Holland & Hart's commitment to the communities and states where we have offices and for allowing me to accept this role."
A University of Wyoming undergraduate, Micheli received his law degree from Brigham Young University Law School.
###
About Holland & Hart
Holland & Hart LLP delivers integrated legal solutions to regional, national, and international clients of all sizes. Since its inception in 1947, Holland & Hart's approximately 500 lawyers have consistently been recognized by leading national and international peer and industry review organizations for innovation and dedication to the practice of law. For more information, visit http://www.hollandhart.com.