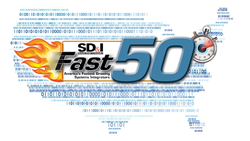 Orem, Utah (PRWEB) April 19, 2015
NorthStar Alarm, an authorized Honeywell smart home and home security provider, was honored earlier this week at the ISC West show during the Security Dealer & Integrator Fast50 Awards Ceremony as the No. 12 fastest growing home security provider in the nation.
The rankings for the Fast50 are a result of an algorithm that takes into consideration year-to-year and revenue growth over a three year period. All dealers and integrators in the United States are encouraged to apply for the award and complete a survey to provide insight on company practices and the overall landscape of the security industry.
The entire list of the SD&I Fast50 Rankings can be downloaded here.
###
About NorthStar Alarm Services
NorthStar Alarm is one of the fastest growing home security and automation companies in North America. For more than a decade, NorthStar has been providing families with peace of mind, while staying true to the core values of integrity, accountability, and service. NorthStar is now serving over 43,000 customers nationwide, and has the equipment, relationships, and reputation that you can count on. Visit NorthStarHome.com for more information.