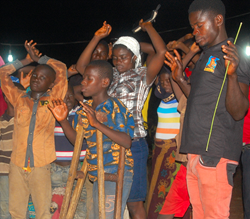 I've never seen such a richness and outpouring of the Holy Spirit as we witnessed during each crusade night in Nigeria. It was truly a blessing to see everyone surrendering themselves to Jesus Christ.
Chandler, Arizona (PRWEB) April 21, 2015
Evangelist James Thorpe traveled to Nigeria for the first time in April, and preached the Gospel of Jesus Christ during and leading up to the Celebration of Easter Sunday in the city of Ikom.
Several thousand attended the April 1-5, 2015 crusade in Ikom, Nigeria, which is located about 218 kilometers (135 miles) northeast of Calabar, the capital of Cross River State, in coastal southeastern Nigeria. More than 500 made a commitment to Jesus Christ after Thorpe's messages.
"I want to tell you that if Jesus hadn't risen from the dead, there would not be any hope in this world," Thorpe shared Easter morning. "I ask you to give your heart to Jesus Christ and before you leave here today that you be ready to meet the Lord when you are called home."
Weather had been a concern, leading up to the open-air crusade that took place at St. Benedict School, with temperatures in the mid 90's and humidity levels above 80%.
"It had been raining for several days before we arrived, and while it looked like it was going to rain at any moment, the sun continued to shine," said Thorpe. "We were told that the team in Nigeria had been praying for the rain to stop during our crusade. We are so thankful that the Lord answered their prayer."
Thorpe was joined on the trip by his Youth Pastor, Alex Ghelli, who spoke to the leaders and youth in the community about the importance of reaching their youth and engaging them in sharing the love of Jesus with vibrant passion.
"Alex shared an excellent message and his heart and love for the Lord is unmatched for someone his age." "We spend too much time on the here and now, instead of focusing on eternity," said Alex. Alex invited people to come forward to accept Jesus where the new believers were provided with New Testament Bibles.
While in Nigeria, Thorpe and Ghelli also had the opportunity to travel to the village of Obat, to spend time with the adults and children of that village and to visit the site of their church, which was made of bamboo poles and palm leaves.
The crusade, which was titled, "Great Awakening Crusade: Opening the Wells of Revival" lasted five evenings and ended Easter Sunday. While Thorpe plans on continuing to spread the Gospel of Jesus around the world, he hopes to share the urgency of Jesus' message to the people in the United States: "We have a great need for Jesus and revival in our country and we have great faith in God that He will make that happen."
James Thorpe Evangelistic Ministries was established by James Thorpe, where he serves as President and CEO. Visit their website at http://www.jamesthorpeministries.org and follow James on Facebook at http://www.Facebook.com/jamesthorpeministries and on Twitter at http://www.Twitter.com/jthorpeevangmin.
Contacts
James Thorpe
President and Chief Executive Officer
Phone: 480-628-6673
james(at)jamesthorpeministries(dot)org