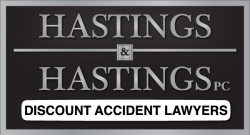 Phoenix, AZ (PRWEB) April 19, 2015
Hastings and Hastings, a genuine discount attorney lawyer in Arizona, announces record demand in the first quarter of 2015 for legal representation associated with permanent disfigurement. Those involved in serious accidents often experienced permanent and substantial disfigurement that can change one's life literally overnight. Ongoing surgical procedures and long-term medical care can often help with this type of injury, however these are expensive and costly procedures that can easily mount into the hundreds of thousands of dollars in terms of cost. Hastings and Hastings works closely with clients who have been injured in this way to ensure the most likely chance of obtaining a recovery.
A substantial and fair recovery is important in helping those who have been disfigured to offset the incredible cost of surgery and medical care. Hastings and Hastings is a firm with multiple offices throughout the Valley that offers discounted attorney's fees where the legal service is never compromised. Focused, detailed and attentive personal injury legal representation is what clients can expect when they choose to work with this experienced and professional law firm in Arizona. From fractures to facial injuries and road rash as well as spinal cord injuries and head trauma, there are a wide array of injuries that happen each and every day throughout the state of Arizona that are best served by experienced and professional legal representation.
Hastings and Hastings handles virtually every type of accident related event. This includes everything from motorcycle collisions and bicycle accidents to pedestrian related accidents and collisions involving 18-wheelers and truckers. Other types of accidents include slip and fall related accidents that happen in the home, in the workplace or in public. These situations can be handled in a professional and prompt manner.
The firm also offers free consultations for every client without exception. This includes offering clients the opportunity to have a personal injury attorney come to their home or bedside in the hospital. It is this attention to detail and outstanding level of client service that has allowed the firm to gain a favorable reputation over the years. Hastings and Hastings makes it clear that its no fee promise is always in effect and if there is no recovery, clients owe no fees at any time. The firm even goes a step further and promises to waive all costs associated with initiating, developing and putting forth a recovery effort. This recent announcement with regard to record demand in the first quarter of 2015 for legal representation associated with permanent disfigurement is additional proof and confirmation that Hastings and Hastings is a law firm in the state of Arizona that offers transparency, honesty and advocacy for each and every client.
Hastings and Hastings is a leading provider of discount personal injury legal services located in and serving the greater Phoenix Metropolitan area. This respected legal firm specializes in assisting individuals that have been the victim of serious injuries that have resulted from accidents that were not fault of their own. Hastings and Hastings is a trusted group of attorneys that deliver personalized service and guidance for injury victims throughout Phoenix and all across the state of Arizona. Hastings and Hastings is known throughout legal circles as a dedicated team of professionals and a law firm that has been representing accident victims throughout Arizona for decades. Hastings and Hastings has consistently exceeds client's expectations with regard to representing a wide array of accident related injury victims at times when it matters the most and always doing so with discount attorney's fees.