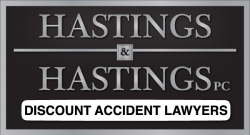 Phoenix, AZ (PRWEB) April 21, 2015
Hastings and Hastings, a law firm in Arizona that has saved clients more than $11 million in the last seven years, announces record referrals for car v. pedestrian related accidents in Phoenix so far in 2015. The firm initially began as a small, two attorney law practice and has evolved over the last three decades into a firm with 11 strategically located law offices throughout the Valley that make it convenient and easy for clients to access the legal representation that they expect and require. Having been injured in an accident that was not the fault of the injury victim often requires prompt and aggressive legal representation as a way to gain a recovery. Hastings and Hastings works diligently to help those who have been injured through no fault of their own to gain access to a substantial recovery.
This is an important consideration especially for those requiring long-term medical care and those who have been permanently injured. From spinal cord related injuries to paralysis and injuries that make it impossible for an individual to ever work again, having a fair and substantial recovery can make all of the difference in the life of an injury victim. Compensating for ongoing lost wages, expensive medical care and other related costs require a just and fair recovery. Hastings and Hastings works closely with clients to ensure the greatest likelihood of a favorable recovery. With an aggressive and fair style when it comes to negotiating with insurance companies, Hastings and Hastings always has the client's best interest in mind.
The firm handles everything from automobile accidents to motorcycle accidents as well as pedestrian related accidents and bicycle involved accidents. Regardless of the type of accident, those who have been injured because of someone else's poor judgment, lack of judgment, malfeasance or negligence deserve some type of recovery. Hastings and Hastings works aggressively to negotiate the best possible recovery and when necessary, will work aggressively to take a recovery effort to full trial to ensure the best possible outcome. Whatever the case may be, one thing is certain and that is that Hastings and Hastings has earned a reputation throughout the community, among peers and with clients for focused and dedicated representation.
Hastings and Hastings believes that a reputation must be earned and can simply not be just given. Keeping the simple fact in mind, Hastings and Hastings works hard for the client to ensure a favorable recovery where a recovery is possible. Having served the community for more than 30 years, Hastings and Hastings is an established name among former, existing and potential clients. This recent announcement with regard to record referrals for car v. pedestrian related accidents in Phoenix so far in 2015, is further proof that Hastings and Hastings stands behind its word.
Hastings and Hastings is a leading provider of discount personal injury legal services located in and serving the greater Phoenix Metropolitan area. This respected legal firm specializes in assisting individuals that have been the victim of serious injuries that have resulted from accidents that were not fault of their own. Hastings and Hastings is a trusted group of attorneys that deliver personalized service and guidance for injury victims throughout Phoenix and all across the state of Arizona. Hastings and Hastings is known throughout legal circles as a dedicated team of professionals and a law firm that has been representing accident victims throughout Arizona for decades. Hastings and Hastings has consistently exceeds clients' expectations with regard to representing a wide array of accident related injury victims at times when it matters the most and always doing so with discount attorney's fees.