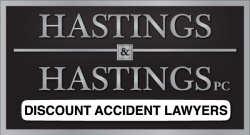 Phoenix, AZ (PRWEB) April 22, 2015
Hastings and Hastings, a dedicated team of professional accident lawyers in multiple offices throughout Arizona, announces a record increase in car accident clients requiring legal representation for serious injuries in 2015. With a growing number of car accidents happening each and every year across the valley, there is an equally growing number of accident victims who have been hurt in some way as the result of someone else's negligence who require personal injury legal representation. This is an important consideration for those who have lost wages to consider and substantial medical expenses to deal with on a daily basis.
The firm has in just the last seven years saved clients on a collective whole more than $11 million. From back injury related cases to burn related cases and cases involving paralysis and serious spinal cord injuries, Hastings and Hastings is a law firm that takes pride in delivering focused, dedicated and detailed personal injury legal representation for each and every client without exception. The firm has multiple attorneys in multiple locations throughout the greater Phoenix metropolitan area who are always standing by and ready to assist those who have been injured because of somebody else's poor judgment, malfeasance or negligence. The firm even offers to visit clients on-site in the hospital or at home if they are unable to physically travel to a Hastings and Hastings office location.
It is this level of dedication and client services that has allowed the firm to steadily grow over the years to multiple offices in the greater Phoenix metro area. Hastings and Hastings has also clearly stated on numerous occasions that it understands the importance of earning a reputation because indeed a reputation is never simply given. Having earned the respect and trust of the community, the industry as well as former and existing clients, Hastings and Hastings is a law firm that stands behind its promises. Perhaps most important of all is the fact that if a recovery effort is not successful, clients are never required to pay any attorney related fees or any costs associated with establishing a recovery effort.
Hastings and Hastings is a trusted name in Phoenix personal injury law with more than a total of 150 years of cumulative legal experience. Handling virtually every type of accident related injury, the firm helps clients with the important decision of choosing to hire a manageable attorney. With free consultations and attentive attorneys who are focused on professionalism, clients can rest assured that they have made a good decision when choosing to hire Hastings and Hastings. This recent announcement with regard to a record increase in car accident clients requiring legal representation for serious injuries in 2015 is one more indicator that Hastings and Hastings stands behind its promises of providing dedicated and focused legal representation.
Hastings and Hastings is a leading provider of discount personal injury legal services located in and serving the greater Phoenix Metropolitan area. This respected legal firm specializes in assisting individuals that have been the victim of serious injuries that have resulted from accidents that were no fault of their own. Hastings and Hastings is a trusted group of attorneys that deliver personalized service and guidance for injury victims throughout Phoenix and all across the state of Arizona. Hastings and Hastings is known throughout legal circles as a dedicated team of professionals and a law firm that has been representing accident victims throughout Arizona for decades. Hastings and Hastings has consistently exceeds clients' expectations with regard to representing a wide array of accident related injury victims at times when it matters the most and always doing so with discount attorney's fees.