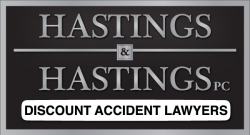 Phoenix, AZ (PRWEB) April 27, 2015
Hastings and Hastings, a discount law firm in Arizona that handles an array of personal injury matters, announces a record rise in serious injury related legal representation requests in Arizona in 2015. The firm has an established and trusted reputation throughout the community, among legal peers and with prior and existing clients. This is testimony and proof to the level of dedication, focus and commitment that the firm makes available to each and every client. Understanding the importance of reputation, the firm has provided decades of experience for clients wishing to recover losses due to an accident that was not their fault. Hastings and Hastings features 11 key office locations throughout the greater Phoenix metropolitan area.
This simply means that no matter where a client lives in the Valley, they have easy access to an office that is nearby. In addition, Hastings and Hastings strives to deliver the very best in service by arranging to come to a client's home or hospital location as needed. Many people who have been involved in a catastrophic or serious accident are simply unable to travel. Hastings and Hastings understands this conundrum and, as such, is always standing by and ready to dispatch a licensed lawyer to an accident victim's location as necessary. It is this level of client service and an incredible attention to detail that have allowed the firm to grow over the years to a law group with multiple office locations throughout Phoenix.
Another key aspect of the Hastings and Hastings difference is that the firm ensures that consultations are always prompt, professional and results driven. This combined with the fact that consultations are with a practicing attorney and not a paralegal provides an added level of peace of mind for clients. While some firms choose to conduct consultations with a salesperson or paralegal, Hastings and Hastings provides detailed initial consultations with an actual lawyer. The firm has a combined cumulative level of experience that exceeds well over 150 years.
Hastings and Hastings has over the years handled virtually every type of accident injury related event. It is this level of experience that helps to ensure that clients have the greatest chance possible of achieving a recovery. From the loss of wages to ongoing medical care and other expenses associated with having been involved in accident, a recovery is an essential and important element of helping individuals return to a more familiar and normal way of life. This recent announcement with regard to a record rise in serious injury related legal representation requests in Arizona in 2015 is more clear evidence that Hastings and Hastings has an impressive reputation among clients and throughout the community.
Hastings and Hastings is a leading provider of discount personal injury legal services located in and serving the greater Phoenix metropolitan area. This respected legal firm specializes in assisting individuals that have been the victim of serious injuries that have resulted from accidents that were no fault of their own. Hastings and Hastings is a trusted group of attorneys that deliver personalized service and guidance for injury victims throughout Phoenix and all across the state of Arizona. Hastings and Hastings is known throughout legal circles as a dedicated team of professionals and a law firm that has been representing accident victims throughout Arizona for decades. Hastings and Hastings has consistently exceeded clients' expectations with regard to representing a wide array of accident related injury victims at times when it matters the most and always doing so with discount attorney's fees.