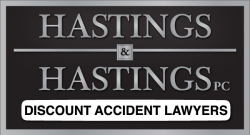 Phoenix, AZ (PRWEB) April 28, 2015
Hastings and Hastings, a reliable and trusted name in Arizona personal injury law, announces first-quarter record demand in 2015 for motorcycle collision accident victim representation. The firm is an experienced trial law group that has represented personal injury and wrongful death victims at discount fees for decades. Having begun as a small 2-attorney firm, Hastings and Hastings has evolved over time to become a law firm with offices throughout the state featuring multiple experienced attorneys. This helps to ensure that clients at every location are accommodated in a professional, focused and responsive way. As a client friendly organization, Hastings and Hastings is focused on advocacy, integrity and leadership.
Hastings and Hastings has a proven reputation is made apparent by the number of referrals the firm continues to receive from former and existing clients. Delivering experienced and dignified legal services for personal injury victims is what the firm has been providing throughout the community for a long time. From car accidents to catastrophic injuries and trucking related accidents as well as motorcycle collisions and wrongful death matters, Hastings and Hastings stands ready to assist those who have been injured due to the negligence, malfeasance or errors of another individual or corporation. Other common areas of personal injury that are routinely addressed include slip and fall accidents in the workplace as well as outside of the workplace and bicycle related injuries as well as dog bite related incidents.
With nearly a dozen offices throughout the greater Phoenix metropolitan area, Hastings and Hastings makes it convenient for clients to have easy access to focused legal representation when they have been injured in an accident. Providing clients with genuine discount fees and decades of experience is what has allowed the firm to continue to grow over the years. The firm has stated many times that reputation truly does matter and that is why client services are always top priority. Hastings and Hastings brings to the table more than three decades of experience in a wide variety of personal injury related matters and auto accident legal representation.
The firm has also has stated on numerous occasions that hiring a personal injury attorney can sometimes be overwhelming for victims who have been injured through no fault of their own. Providing positive solutions for car accident victims and victims of other types of accidents is what the firm strives to provide on a daily basis. Each attorney is closely supervised and hand selected to ensure the highest levels of quality control when it comes to responsive and dedicated personal injury legal representation in Arizona. This recent announcement with regard to first-quarter record demand in 2015 from motorcycle collision accident victim representation is further evidence that Hastings and Hastings is a firm that stands by its commitment to offer quality legal services.
Hastings and Hastings is a leading provider of discount personal injury legal services located in and serving the greater Phoenix metropolitan area. This respected legal firm specializes in assisting individuals that have been the victim of serious injuries that have resulted from accidents that were no fault of their own. Hastings and Hastings is a trusted group of attorneys that deliver personalized service and guidance for injury victims throughout Phoenix and all across the state of Arizona. Hastings and Hastings is known throughout legal circles as a dedicated team of professionals and a law firm that has been representing accident victims throughout Arizona for decades. Hastings and Hastings has consistently exceeded clients' expectations with regard to representing a wide array of accident related injury victims at times when it matters the most and always doing so with discount attorney's fees.