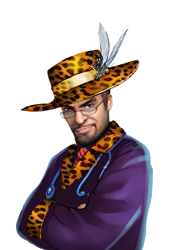 My pimping ain't easy.
Cheyenne, Wyoming (PRWEB) April 20, 2015
Precision Enterprises, LLC is eager to announce the unveiling of a revamped version of their very popular series of medical study apps. Scrub Wars® is an exciting and novel medical gaming app franchise designed for medical students to master their board (USMLE Step 1 & COMLEX Level 1) and course exams (M1/M2 courses) as well as pimping on the wards (M3/M4 clerkships). Through an exciting spaceship shooter game platform, Scrub Wars® incorporates the highly effective learning techniques of gamification (promote learning through playing games) and spaced learning (purposely repeating high-yield subjects from different perspectives to consolidate important concepts). Ideal for individualized (when one has a few minutes to spare) or for group study (play the game with your friends to make studying fun). Available in the Apple ®, Amazon ®, and Google Play ® stores.

Currently, for first and second year medical students, they can buy the USMLE Step 1 and COMLEX Level 1 app (3,000 questions for only $19.99). Future clones of this game will include versions in pharmacology, pathology, physiology, and many other relevant topics for preclinical medical students. Download Scrub Wars for the USMLE Step 1 and COMLEX Level 1 here.
Also, for third and fourth year medical students, they can buy the Surgery M3 Clerkship Pimping app (1,000 questions for $9.99). Future clones of this game will include versions in internal medicine, family medicine, psychiatry, pediatrics, neurology, and OBGYN. Download the M3 Surgery Pimping app here.
Here are the unique features of this app and how using it can be the perfect complement to your existing study regimen:
Best Value- Each app will have many questions in several topics that can be tried for free. There are no expensive subscriptions or complicated tiered packages. All of the apps are just a penny (or less) per question.
Critical Acclaim - The games have received exceptional praise at multiple national conventions including the 2014/2015 AMSA Annual Meetings, 2014 AAMC Annual Meeting, 2014 Pre-Health Conference at UC Davis, and the 2013 DevLearn Expo.
Test Prep Steroids - Review, consolidate, and master high-yield vital facts (basic science gems and relevant clinical pearls) to maximize retention.
Experienced Creators - All questions are written/edited by physicians, residents, and medical students who excelled in medical school and have extensive teaching experience.
Hilarious Medical Videos - The company has created many entertaining and funny videos to promote the app. Their infamous Scrub Wars YouTube Channel already has 25 videos and a dedicated cult following amongst fans.
Precision Enterprises, LLC is an innovative healthcare consulting and video marketing company that specializes in making educational content entertaining. The company utilizes a unique merger of various talents including game programmers, physicians, graphic designers, and studio actors. Expect them to produce content in unconventional and intriguing ways.