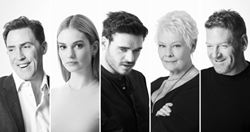 London, UK (PRWEB UK) 18 April 2015
Fiery Angel presents Plays At The Garrick: Kenneth Branagh Theatre Company; a year of unmissable theatre.
The Winter's Tale, Harlequinade, The Painkiller, Romeo and Juliet and The Entertainer make up the inaugural season of work for the Kenneth Branagh Theatre Company.
The company will be resident at the Garrick Theatre for a year from October 2015.
The central creative team includes artistic associates Rob Ashford and Christopher Oram, and director/adaptor Sean Foley.
Additional members of the creative team will include Neil Austin, Chris Shutt, Lucy Bevan and Patrick Doyle.
With Rob Brydon, Judi Dench, Lily James and Richard Madden already confirmed, the company will assemble a group of exceptional artists.
THE WINTER'S TALE
By William Shakespeare
17 October 2015 - 16 January 2016
Shakespeare's timeless tragicomedy of obsession and redemption is reimagined in a new production co-directed by Rob Ashford and Kenneth Branagh, following their triumphant staging of Macbeth in Manchester and Manhattan.
Judi Dench will play Paulina, Kenneth Branagh will play Leontes.
HARLEQUINADE
By Terence Rattigan
24 October 2015 - 13 January 2016
In this rarely seen comic gem, a classical theatre company attempts to produce The Winter's Tale and Romeo and Juliet, while the intrigues and dalliances of the company members are accidentally revealed with increasingly chaotic and hysterical consequences.
The behind-the-scenes world takes centre stage in Terence Rattigan's affectionate celebration of the lunatic art of putting on a play.
Kenneth Branagh will perform and co-direct with Rob Ashford.
THE PAINKILLER
By Francis Veber
In an adaptation by Sean Foley
5 March 2016 - 30 April 2016
Sean Foley directs his darkly hilarious adaptation of Francis Veber's classic French farce as Kenneth Branagh and Rob Brydon reprise the roles they played to great acclaim at Belfast's Lyric Theatre in this comic tour-de-force.
ROMEO AND JULIET
By William Shakespeare
12 May 2016 - 13 August 2016
Reuniting the stars of his celebrated film of Cinderella, Kenneth Branagh directs Richard Madden and Lily James who play the leads in Shakespeare's heartbreaking tale of forbidden love.
THE ENTERTAINER
By John Osborne
20 August 2016 - 12 November 2016
Set against the backdrop of post-war Britain, John Osborne's modern classic conjures the seedy glamour of the old music halls for an explosive examination of public masks and private torment.
Rob Ashford directs Kenneth Branagh as the unforgettable Archie Rice.