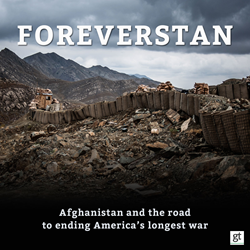 Boston, Massachusetts (PRWEB) April 20, 2015
The GroundTruth Project, a new non-profit organization dedicated to training the next generation of international correspondents, formally launches this week with a series of events. In Boston and Washington, D.C., GroundTruth's Founder and Executive Director Charles M. Sennott will lead discussions about the future of foreign reporting and urge wider adoption of new set of safety standards for reporters on dangerous assignments. In partnership with the flagship PBS Station WGBH, The GroundTruth Project will publish a groundbreaking special report, "Foreverstan: Afghanistan and the road to ending America's longest war."
Sennott spent two decades reporting from the Middle East for The Boston Globe, before co-founding the award-winning digital news organization, GlobalPost.com. Those experiences led him to create GroundTruth as a hybrid journalism and education non-profit that focuses on issues of social justice including human rights, freedom of expression, emerging democracies, the environment, religious affairs and global health. GroundTruth publishes through an array of editorial partnerships with PRI The World, PBS NewsHour, FRONTLINE, Huffington Post, GlobalPost and others.
Here's the line-up of events:

Tuesday, April 21 from 6 to 8 p.m. – The GroundTruth Project will launch formally from its new offices at WGBH in Boston. You can join the discussion via livestream and on Twitter @groundtruth and tweet questions about the future of international reporting on hashtag #GroundTruth. Joining Sennott will be NPR Middle East correspondent Deb Amos, the Committee to Protect Journalists' Joel Simon, and GroundTruth correspondents Lauren Bohn, Ben Brody, and Coleen Jose.
Wednesday, April 22 – The GroundTruth Project will launch its Special Report, "FOREVERSTAN: Afghanistan and the road to ending America's longest war." Sennott just returned from a long reporting trip in the north of Afghanistan in Mazar-i-Sharif, where he worked with his team of reporters on the ground at the start of yet another fighting season. To see the project prior to its official launch you are invited to view a microsite at: http://www.foreverstan.com. This material is under embargo but visual and written assets can be made available for editorial partners. The Special Report combines photo essays and video in a journey along Afghanistan's 1300-mile Ring Road as America searches for an exit from the war. The Special Report features profiles of millennial Afghan business and political leaders, none of whom have experienced their country at peace but who are nonetheless hopeful about the future. The Special Report also includes a timeline of Afghanistan's history, starting with the invasion of Alexander the Great in 329 B.C. through to the latest violence erupting at the start of another fighting season.
Thursday, April 23, 9 a.m to noon – At the National Press Club in Washington, D.C., Sennott will join the Investigative Reporting Workshop, the National Press Club Journalism Institute and the Committee to Protect Journalists for a wide-ranging discussion of "Freelancers at Risk: Photojournalism and the Call for Global Safety Standards." Click here to register. http://www.press.org/events/freelancers-risk-photojournalism-and-call-global-safety-standards
In addition to its reporting initiatives, GroundTruth is currently developing fellowships, workshops and seminars. A full list of its media and education partners can be found at http://thegroundtruthproject.org/about-us/
The GroundTruth Project is being supported with generous grants from The Ford Foundation, the Galloway Family Foundation, the Bake Family Foundation, the Henry J. Kaiser Family Foundation and the Henry Luce Foundation among others.