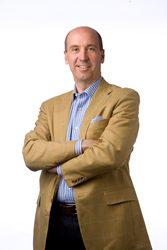 Like it or not, things are changing. Understanding the implications of new technology is crucial to thriving in the coming decades.
Miami, FL (PRWEB) April 21, 2015
What might the world of 2020 look like? How will business change? More importantly, how will leaders and workers need to change? In futurist Jack Uldrich's upcoming keynote presentation being delivered at the 31st Annual NAHAD Convention in Miami, Uldrich intends to connect each of these questions, and get ideas flowing as to how to answer them. Uldrich's presentation is based on his book, "Foresight 20/20: A Futurist Explores the Trends Transforming Tomorrow."
Connecting the trends with his clients needs is a cornerstone of Uldrich's work. in his keynote presentations and follow up strategic planning sessions, (which he does for a wide variety of businesses and industries spanning healthcare, education, energy and manufacturing) Uldrich helps organizations all over the world navigate the decade ahead with an in-depth exploration of technological future trends that will transform the world of 2020.
In his presentation, "Foresight 20/20: Ten Trends Transforming Tomorrow" which he will deliver for the NAHAD he will outline "how technology is set to reshape our lives and how to prepare today for the challenges of tomorrow."
As a futurist, one of Uldrich's key his messages is, "Like it or not, things are changing. Understanding the implications of new technology is crucial to thriving in the coming decades." He makes it his business to help forecast the key trends that will shape the future.
In his "Ten Trends Transforming Tomorrow" keynote Uldrich encourages his clients keep in the forefront of their minds. "What has served businesses well in the past might not work in the future. Staying informed on the latest technological advances and reflecting on how it might affect their organization is a critical. Surfing the web, taking time to simply think and taking advantage of things like the free e-newsletters from various universities, are just a a sampling of ways to stay abreast of the coming trends."
"Radical shifts are reshaping the world. Being a futurist is all about helping organizations prepare for the coming changes so that they can effectively navigate and determine the course of their future. Helping as many organizations future-proof themselves is one of the things that gets me up each day. Custom designing presentations that my clients can digest and use as fuel for the future is exciting."
Following his delivery to the NAHAD Uldrich will round out his month of presentations which included BCBS of North Carolina, Foth, Stiles and North Carolina Electric Coops, will speak with a keynote delivery to the International Association of Refrigerated Warehouses in Orlando on April 27th.
Parties interested in learning more about Jack Uldrich, his books, his daily blog or his speaking availability are encouraged to visit his website. Media wishing to know more about either the event or interviewing Jack as a futurist or trend expert can contact Amy Tomczyk at (651) 343.0660.