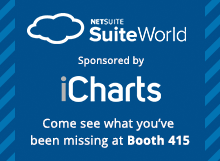 Sunnyvale, CA (PRWEB) April 20, 2015
iCharts, a pioneer in cloud-based Collaborative Visual Intelligence, today announced its platinum sponsorship of SuiteWorld 2015, NetSuite's annual user conference for customers, partners, and industry luminaries, being held May 4-7 in San Jose, Calif. NetSuite is the industry's leading provider of cloud-based financials / ERP and omnichannel commerce software suites. NetSuite's SuiteWorld 2015 conference is slated to be the largest-ever gathering of the fast-growing NetSuite community, with an expected 7,200 attendees coming together to inspire, connect with one another and to share business transformation best practices for getting the most out of the world's leading cloud business management suite.
At SuiteWorld 2015, iCharts will be showcasing its native visual reporting iCharts for NetSuite SuiteApp. Business users across Sales, Customer Service, Marketing, Finance and Supply Chain departments take advantage of iCharts' native integration with NetSuite to:

Increase their productivity by visualizing their business right within NetSuite
Reduce complexity by ensuring everyone has access to the same information
Improve their agility by empowering them to manage their business in real time
Extend their NetSuite investments by allowing them to leverage their existing NetSuite saved searches
"We are thrilled about the great reception we are receiving from NetSuite customers," said Seymour Duncker, CEO, iCharts. "This is a testament to the value we are adding to their existing NetSuite investments. We are very proud to announce our commitment to NetSuite's annual user conference as a platinum sponsor and look forward to showcasing our innovations to NetSuite's customers."
iCharts is pleased to announce that it will also be hosting a breakout session on "Best Practices In Improving Business Performance Through Visual Reporting And Analytics" during SuiteWorld 2015. For more information, visit the SuiteWorld 2015 session information page.
Numerous high-growth, mid-market companies using NetSuite have adopted iCharts to better manage their business performance through iCharts' industry leading data visualization and reporting capabilities. These businesses range in industries from specialized audio/video marketing services companies such as Spectrio and eGovernment services companies like CivicPlus.
"Managing sales performance is key in any business. The iCharts for NetSuite SuiteApp allowed us to leverage our existing NetSuite investments and significantly improve the performance of our sales organization," said Mitchell Keller, President, Spectrio.
Customers who integrate the iCharts platform to their NetSuite system can experience greater performance by empowering everyone in their organization to generate real-time insights from their NetSuite data.
To learn more, visit iCharts at booth 415 in the SuiteWorld Expo at the San Jose Convention Center.
About iCharts
Based in Sunnyvale, Calif., iCharts is the unrivaled leader in Collaborative Visual Intelligence, trusted by leading brands such as The Coca-Cola Company, IDC and MarketWatch. Its cloud-based visual analytics platform empowers everyone to quickly visualize complex business information, large-scale research and dynamic data sets. Its simple, easy-to-implement solutions empower users to rapidly create, distribute and collaborate via comprehensive dashboards, interactive reports and intuitive charts. Data Insights and Intelligence are rapidly distributed and disseminated, delivering knowledge and empowering decisions. Visit http://www.icharts.net for more information and join the conversation @iCharts.
About SuiteWorld 2015
SuiteWorld is NetSuite's annual conference, being held at the San Jose Convention Center in San Jose, Calif. on May 4-7 for customers, users, partners, developers, media and industry analysts. Attendees of SuiteWorld join the full strength of the NetSuite ecosystem to learn and explore, network face-to-face, and help shape the next evolution of cloud computing services.
Today, approximately 24,000 companies and subsidiaries depend on NetSuite to run complex, mission-critical business processes globally in the cloud. Since its inception in 1998, NetSuite has established itself as the leading provider of enterprise-class cloud ERP suites for divisions of large enterprises and mid-sized organizations seeking to upgrade their antiquated client/server ERP systems. NetSuite continues its success in delivering the best cloud ERP/financial suites to businesses around the world, enabling them to lower IT costs significantly while increasing productivity, as the global adoption of the cloud accelerates.
For more information about SuiteWorld and how to receive a free pass, please visit http://www.netsuitesuiteworld.com.
To join the SuiteWorld conversation on Twitter, please use #NSW15.
###
iCharts is a registered trademark of iCharts, Inc. All other trademarks and product names are the property of their respective companies.