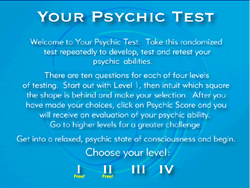 Test, develop and control your subconscious mind to develop psychic abilities. Think Sharper. Work Smarter. Live Better!
Chicago, IL (PRWEB) November 17, 2015
To test and develop psychic abilities, Psychic Smarts is offering the first two levels of 'Your Psychic Test', a four level psychic test at http://psychicsmarts.com/try-for-free/free-psychic-test/, free of charge.
Irwin Myers, the developer of Psychic Smarts says, "Psychic Smarts is a down to earth, how-to approach to psychic development. I researched the best ways to communicate with and direct the subconscious mind and present these techniques in easy to do, yet powerful techniques. Realizing that one size doesn't fit all, I also realized that I had to present dozens of ways to establish this connection. That's why there are more than 35 techniques to choose from."
Myers continues, "Testing and exercising your psychic abilities is the best way to break through to the unseen, yet most powerful side of life where ideas, inspiration and creativity reside. It's also where intuition and your psychic powers live. The subconscious mind is the gateway to that place. When we strengthen that connection, we're able to tap into that world and use it to improve our lives in many ways."
The challenge is learning how to access and direct the subconscious mind. Testing and developing are the first steps to being able to direct this channel to the 'other side'. Once the subconscious mind is working for people and gives them access to the non-material part of the universe, the sky is literally no longer the limit!
Once people understand how to get in touch with the subconscious, they can make desired changes in their lives, become more clairvoyant, improve their focus, access increased creativity and otherwise greatly improve their lives. Increased intuition, for instance, can be of tremendous value when making important business and personal decisions. Whether or not to make a deal, start a relationship with a particular person, initiate a project or even whether to change one's career, are just some of the ways that intuition can assist in the decision making process.
Psychic testing and development techniques such as those offered in Psychic Smarts develop the conscious mind as well. Focus, stress management, concentration and confidence are also greatly improved.
Myers says, 'It's not just about guessing which rectangle the hidden symbol is under. It's more about getting in touch with your psychic mind and knowing how activate it over and over again. This test, the 35 techniques, two meditations and four approaches to behavior change help train you to do just that."
http://www.psychicsmarts.com
Psychic Smarts is a four disc 'digital handbook' for the mind to help people test, develop, communicate with and ultimately direct their subconscious. Psychic Smarts is a well researched program that teaches practical techniques to guide people to go beyond the limits of the physical world and tap into the subconscious powerhouse that we all possess. The subconscious is the conduit to the universal mind, creativity, greater focus and the ability to reprogram ourselves to live a more exciting, meaningful and fulfilling life.
Psychic Smarts contains 35 psychic how-to techniques, four separate self-improvement approaches, a four level psychic test CD, two guided meditations on CD, the same meditations accompanied by nature scenes on DVD, and an 83 minute step-by-step program disc to guide viewers through the process of communicating with, programming and directing their subconscious mind.