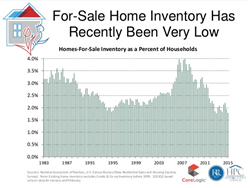 2015 is expected to be a huge year for mortgage applications
Chicago, IL (PRWEB) April 18, 2015
The Federal Savings Bank was intrigued by a recent April 14th article from Corelogic.com titled "#HousingBloom".
The article is based on a panel discussion in Washington D.C. surrounding the status of the housing market. The panelists were "Dr. Frank Nothaft of CoreLogic, Dr. David Crowe of the National Association of Homebuilders and Dr. Nela Richardson of Redfin."
Dr. Frank Nothaft focused on the status of the spring housing market. He highlighted a slowly improving marco economic picture and that a Federal Reserve rate hike is highly probably. Further Nothaft "indicated expectations for rising home prices through 2016 based on the CoreLogic Home Price Index (HPI) for the U.S. While these factors indicate progress, the U.S. housing market also faces some fundamental weaknesses. For example, housing inventory as a percent of households is currently at a 30 year low."
Due to nationally low supplies of housing, The Federal Savings Bank has been encouraging all prospective home buyers to get pre-approved for a home loan now to at least get a jump start on the competition. As the months carry on at low unemployment levels, more Americans will be enabled to get pre-approved for a home loan. This is why 2015 is expected to be a huge year for mortgage applications, especially from young first-time home buyers who are tired of paying rent and have finally saved enough for a down payment.
Dr. David Crowe of the National Association of Homebuilders "offered his expertise around demand and supply for new housing stock. Beginning with the demand side, he first pointed out the significant shift to the construction of higher priced homes. For example, in early 2000, the shift of homes priced at less than $200,000 has declined from 43 percent of the market to approximately 20.8 percent of the market in 2014; with much of this being driven by regional sales of new homes. Condos have come down from a market high of 53 percent of multifamily starts in the third quarter of 2005 to less than 12 percent in the fourth quarter of 2014." This underlines the housing bust and the aftermath that has ensued for home builders.
David Crowe "continued that even in cases where there may be ample lot supply one particular issue affecting construction is a lack of skilled labor, particularly carpenters and framers, noting that if you can't frame a house you also don't need an electrician or plumber."
Dr. Nela Richardson of Redfin assessed that the housing market is "far from the peak of home sales based on the last 25 years and have room to grow. She reiterated Nothaft's observation by affirming that Redfin is also seeing steady, moderate price growth in 2015."
Richardson said that "Other than the pre-crisis years, we seem to be back to more normalized prices and seeing fewer homes selling above the list price." She also noted "that in overheated markets, a 20 percent down payment is often not enough to get the contract from the seller. Cash or a 30 percent-plus down payment is more the norm, with the borrower then quickly refinancing once title has been transferred. This was a discouraging observation as the average homeowner and certainly, first time home buyers are more limited consumers in this kind of market."
Contact The Federal Savings Bank, a veteran owned bank, to learn more about mortgages.