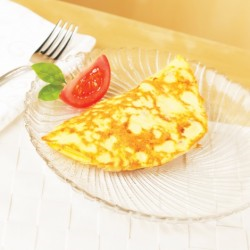 Dieters can start their day with delicious, low calorie, low carbohydrate bacon and cheese, vegetable or southwestern omelets, all conveniently delivered directly to their door.
New York, NY (PRWEB) April 21, 2015
Now, busy Diet Doc clients can bolster their metabolism and begin their day with the company's new diet breakfast omelets. Like Diet Doc's other pre-packaged diet meals, the new breakfast omelets are shipped in dry ice and are delivered directly to their door. Patients can choose from delicious bacon and cheese, vegetable or southwestern omelets that not only appeal to the taste buds, but ensure that dieters stay on track and reach their ideal weight with healthy, low carbohydrate meals.
One of the only medical weight loss companies to utilize Telemedicine, more and more people throughout the country are turning to Diet Doc's all-inclusive weight loss programs because it is safe, it is easy and it works. New patients can simply call the company or visit the company's website at dietdoc.com to complete a health questionnaire, consult online with one of the specially trained doctors, work closely with nutritional experts and reorder their powerful prescription diet products for direct delivery to their home or office without costly, embarrassing and time consuming office visits. And, for those who find planning and preparing meals time consuming and challenging, they can simply shop online to enjoy easy to prepare, low calorie, low carbohydrate and delectable pre-packaged diet meals, snacks and breakfast omelets.
In their constant effort to make losing excess fat easier, more convenient and more comfortable, the company recently partnered with Artisan-Bistro to offer organic, gluten-free, pre-packaged diet meal options, snacks and desserts that work flawlessly with Diet Doc's prescription hormone diet treatments to target, attack and flush stored fat from the system.
Diet Doc offers their patients complete diet plans that include online doctor consultations, tailor made meal plans, pure, prescription diet products and unlimited personal support throughout. And, while most dieters find the diet plans simple and easy to follow, many patients still find making time to prepare nutritious meals challenging. Because of Diet Doc's partnership with Artisan-Bistro, more and more dieters are enjoying home-cooked flavor without risking weight gain and finding losing excess fat easier and more comfortable than ever before. These single serving, frozen, pre-packaged diet meals and bowls are balanced with the best sources of lean protein, fiber-rich whole grains, vegetables and healthy fats. The meals are gluten-free and, like Diet Doc's diet plans, they are based on nutritional science. Because the organic ingredients are not processed and contain no artificial flavors, the meals maintain their flavor. Diet Doc patients may choose among a wide variety of delicious dinner pre-packaged diet meal options, ranging from Alaskan Salmon to southwest style, grass-fed beef, as well as snacks and desserts that range from NY cheesecake shakes and puddings to soft baked brownie bars.
To take advantage of special pricing, discounts and free shipping, Diet Doc clients can simply visit http://www.artisanbistropro.com/pc807923 and use Diet Doc customer code 807923 to order pre-packaged diet meals. Diet Doc's diet snacks and desserts can be ordered simply by calling the company or visiting dietdoc.com.
Diet Doc has become a leader in the medical weight loss industry and has helped people in even the most remote areas of the country lose 20 pounds or more per month without hunger, cravings, or loss of energy. They create diet plans for people of all ages, genders and medical conditions and invite those who are struggling to lose that final 10-20 pounds to those who must lose 100 pounds or more to call today to schedule a confidential consultation.
About the Company:
Diet Doc Weight Loss is the nation's leader in medical, weight loss offering a full line of prescription medication, doctor, nurse and nutritional coaching support. For over a decade, Diet Doc has produced a sophisticated, doctor designed weight loss program that addresses each individual specific health need to promote fast, safe and long term weight loss.
Diet Doc Contact Information:
Providing care across the USA
Headquarters:
San Diego, CA
(888) 934-4451
Info@DietDoc.info
http://www.dietdoc.com
Twitter: https://twitter.com/DietDocMedical
Facebook: DietDocMedicalWeightLoss
Linkedin: https://www.linkedin.com/company/diet-doc-weight-loss?trk=biz-brand-tree-co-logo