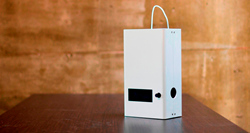 Montreal, Quebec (PRWEB) April 21, 2015
Mosaic Manufacturing is launching a Kickstarter campaign to raise $75,000 over 30 days for The Palette - a technology that transforms virtually every 3D printer on the market into a multi-colour printer, and allows existing machines to create functional electronic parts.
Mosaic designed The Palette to increase accessibility of colour 3D printing to the desktop market. Currently, printers that cost under $60k generally aren't able to print in more than one colour, and when they do the colours tend to bleed into one another.
The Palette is easily deployed and will allow owners of 3D printers to skip the upgrade cycle of buying a new printer, achieve high quality colour printing, and unlock new utility from their current machine.
"The promise of 3D printing as a communications tool has not been fully realized because of the single colour limitation placed on 3D printers today. The Palette brings new capabilities to a wide range of people who already own 3D printers," said Chris Labelle, Co-founder and COO of Mosaic Manufacturing. "For us, Kickstarter is a great way to connect with a wide variety of people who use 3D printing technologies. Over the next 30 days, our backers will have an opportunity to play a key role in bringing The Palette to life.."
The Palette includes:

A new approach to colour: 3D printers melt plastic filament and to build up objects layer by layer. The Palette combines four filament inputs into a single filament output. This output is then fed through the user's single filament printer, transforming it into a multi-filament printer. This transformation lets users create multi-colour parts, as well as parts with conductive circuitry inside, rigid internal skeletons, as well as externals with a metallic finish.
Cross platform compatibility: The technology can be used next to virtually any desktop 3D printer. The user does not need to modify their printer in any way, all they have to do is replace their traditional filament spool with The Palette and they can start printing an entirely new range of pieces.
A constant feedback system with the printer: The Palette creates a closed loop feedback system with the printer to ensure the two machines are always perfectly in sync.
The Palette is the brainchild of Mitch Debora, Derek Vogt, Chris Labelle and Heather Evans, Canadian entrepreneurs with diverse professional backgrounds.
The Kickstarter campaign begins April 21 and will end on May 21. Early adopters will be able to purchase the technology at a deep discount. For a full rundown of pledge levels and highlights visit the Kickstarter page.
Media wishing to interview Mosaic Manufacturing personnel or request a demo should contact PR agent, Jackson Wightman at 514 605 9255.