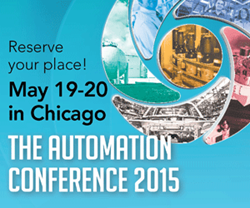 ... the future of manufacturing is beginning to take shape in very different ways ...
Chicago, IL (PRWEB) April 20, 2015
Next month in Chicago technology end users, experts and industry professionals will convene at The Automation Conference (TAC) to explore industrial automation trends and technologies that are revolutionizing manufacturing. Now in its fourth year, TAC is designed for engineering and management professionals within discrete manufacturing, packaging, and continuous and batch processing. Topics to be covered include: the Industrial Internet of Things, 3D Printing/Additive Manufacturing, Smart Manufacturing, safety, cyber security, Manufacturing Intelligence/Big Data, and remote access.
Taking place May 19-20 at the Chicago Marriott O'Hare, the conference is produced by PMMI Media Group, publishers of Automation World and Packaging World. Presenters include professionals from NASA, The Boeing Company, TransCanada (Keystone Pipeline), General Mills, the Smart Manufacturing Leadership Coalition, MOL Danube Refinery, Corning, the Industrial Internet Consortium, Comau LLC and other well-known organizations. In addition, 16 automation solution providers will host Technology Workshops throughout both days of the conference.
David Greenfield, Automation World's Director of Content/Editor in Chief and TAC conference moderator, shares his thoughts: "Each year, The Automation Conference delivers key insights from the front lines of manufacturing and processing industry automation. But this year, industry trends—particularly around the potential of the Industrial Internet of Things, Big Data and 3D Printing/Additive Manufacturing—are aligning in such a way that the future of manufacturing is beginning to take shape in very different ways than we have come to recognize it today. The presentations and discussions that take place at The Automation Conference 2015 will give attendees the insights they need to weather the changes that are already beginning to alter their industries."
Registration information and details on the conference program are available at TheAutomationConference.com or by calling 1-800-355-5595.
About PMMI Media Group
PMMI Media Group is a market-leading B2B media company that produces information for processing and packaging professionals, bringing together solution providers and end-users and facilitating connectivity throughout the supply chain. Its world class media brands — Packaging World, Automation World, Healthcare Packaging, Contract Packaging and Packaging + Processing OEM— are proven leaders in covering this diverse and dynamic marketplace, and its digital products incorporate leading edge media technologies to deliver informed, actionable business intelligence to the industry. PMMI Media Group also produces The Automation Conference, an annual education and networking forum, taking place in Chicago each spring.
PMMI Media Group is owned by PMMI, The Association for Packaging and Processing Technologies, a trade association representing more than 700 companies that provide a full range of processing and packaging machinery, materials, components and containers. PMMI actively brings buyers and sellers together through initiatives such as packexpo.com, educational programs and world-class events, connecting participants in the processing and packaging supply chain with their customers around the world. PMMI produces the PACK EXPO portfolio of trade shows,