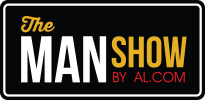 Birmingham, Alabama (PRWEB) April 22, 2015
The Man Show by AL.com is coming to the Birmingham Jefferson Convention Center during Father's Day Weekend, June 19 – June 21. General admission tickets are $10, and a weekend pass for AL.com members is $5. The Man Show is also now accepting sponsorship and exhibitor entries. This will be a full weekend experience of all the things guys like, including:

Friday's Ultimate Happy Hour featuring a beer garden, casino experience, photo opportunities at the MMA Fighter weigh in with beautiful ring girls, a corn hole contest and live music.
Saturday's Most Fit Man competition, a fun, yet challenging fitness competition open to anyone willing to test their ability to pound out most push-ups, sit-ups and other activities better than anyone else in the entire city. Cost is $25 to enter the event. The winners of the event will get $500 to donate to their favorite charity as well as a feature in Birmingham Magazine. Find more details and register for the event at http://www.manshowal.com.
Saturday will also have lots of dynamic programs like the Kid's Zone, Tech Talk featuring Google alum, Aaron Brennan. Brennan once led the famed Google Glass project and is going to discuss technology as a tool for changing society for better. The day will end with a major Live MMA (Mixed Martial Arts) Fight produced by Strikehard Productions, a local promotion company that has produce over three dozen MMA fights.
Sunday will be an all-out tribute to fathers, including Stories of our Fathers, a series of presentations from ArcLight Stories featuring regular people, all sharing powerful stories about Dad – some heart-breaking, some heart-warming and others just flat out hilarious.
Sunday will also feature Real Men, Real Talk, with lively discussions about manhood and fatherhood. There will be opportunities for regular guys to sign up to become mentors for young people needing guidance.
"We're excited to bring The Man Show experience to Birmingham," said Ed Fields, Director of Events and Community Engagement at Alabama Media Group. "The event will be well-rounded with something for Dads of all ages as well as his friends or family. For people that struggle with what to get Dad for his special day, this is the perfect place to find the right gift, or to simply spend some quality time."
Within the event, there will be dozens of exhibitors and live demonstrations in more than 70,000 square feet of exhibit space.
Evol Ink Studio, a Birmingham based tattoo shop, will be present at the BJCC doing tattoos for customers at the event. "We do tattoos for people all the time, but this will be our first time in the BJCC," said Brian Pallante, owner of Evol Ink Studio. "Yes, we will be doing tattoos on site, but we will also be educating people about how to take care of their tattoos and piercings on site."
The centerpiece of the entire weekend is the Live MMA (Mixed Martial Arts) event by Strikehard Productions. The event, sanctioned by the Alabama Athletic Commission, will feature top amateur competitors in the southeast in an approved MMA cage. The Live MMA event is included at no additional cost – attendees can come and grab an open seat. Table seating is reserved exclusively for major event sponsors and AL.com members. Attendees can also meet the competitors and ring girls at the official weigh-in Friday night during The Man Show's Ultimate Happy Hour and Casino Experience.
"We have produced many Live MMA events in the Southeastern U.S., but this will be our first event in an expo," said Matt Leavell, President of Strikehard Productions. "As far as The Man Show goes, we are going to feature many of the best amateurs in Alabama as well as at least one professional fight. This is going to be a first-class experience, including our fighter weigh-in at The Man Show Ultimate Happy Hour on Friday night which will include photo opportunities with our beautiful ring girls."
Along with the experiences listed above, there will also be plenty of "man cave" items available for purchase throughout the exhibit.
"This event is a smart marketers dream interaction with an incredibly targeted and qualified audience, an audience that could turn into your new customers," Fields added.
For additional information about exhibitor and sponsorship opportunities within The Man Show by AL.com, visit manshowal.com.
About AL.com
AL.com is Alabama's number one news and information site and a part of Alabama Media Group. Alabama Media Group is a digitally focused news and information company that combines the quality journalism of The Birmingham News, The Huntsville Times, Mobile's Press Register and The Mississippi Press with up-to-the-minute access of AL.com and gulflive.com.
About Alabama Media Group
Alabama Media Group is a subsidiary of Advance Publications, Inc., a privately held communications company that owns Advance Digital, Condé Nast Publications, Parade Publications, Fairchild Fashion Group, American City Business Journals, Inc., Golf Digest Publications and more than 25 newspapers across the country. Alabama Media Group's mission is to provide innovative ways to inform, connect and empower the people of Alabama and the communities they serve.
###