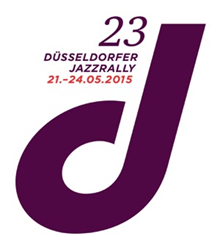 250,000 jazz lovers and about 500 artists from all over the world visit Düsseldorf and change the vibration of this cosmopolitan city of 650,000 people with the sounds of jazz, funk, soul and rock
Düsseldorf, Germany (PRWEB) April 20, 2015
Düsseldorf's annual Jazz Rally is by far the largest jazz festival in Germany, and the city of Düsseldorf is known not only for hosting huge events, but also for transforming itself into one giant party. The alchemy happens again from May 21-24 this year, when around 250,000 jazz lovers and about 500 artists from all over the world visit Düsseldorf and change the vibration of this cosmopolitan city of 650,000 people with the sounds of jazz, funk, soul and rock.
The reasons for the success of Jazz Rally are manifold: the quality of the program and performances is top-notch, most venues are in walking distance in the city-center, and all events can be attended on one ticket (an all-weekend pass called "button"). What's more, Düsseldorf is one of the hottest destinations in Germany, breaking new records in visitor numbers year after year. In fact, most Jazz Rally events take place in one of the city's biggest attractions, the historic Old Town, also known as the "Longest Bar in the World," with 260 bars and restaurants in under a square mile.
Highlights:
Father and son duo "Dauner // Dauner," a jazz piano legend and his pop percussionist son, create atmospheric sound vistas imbued with Indian and contemporary musical elements; British "Brand New Heavis (BNH)," one of the most successful acid jazz and funk bands of all times; Great American Songbook in big band style by "Stefan Gwildis & NDR Bigband";
British Trio "Matt Bianco" and their mix of Caribbean-infused jazz and Bossa/Samba pop.
This year introduces several Jazz Rally novelties: day tickets are now available for Friday, Saturday and Sunday (starting at 24.00 euro) in addition to the all-weekend pass (Jazz Rally Button, starting at 32.00 euro); a jam session with some of the top performers on Saturday night; and a separate stage dedicated to emerging talent. Moreover, the 2015 event will feature a new logo – the city's initial "D" as a musical note – representing the festival's combination of musical experience and fascinating destination.
For more information about Jazz Rally and to purchase tickets, please visit: http://www.duesseldorfer-jazzrally.de.
Düsseldorf's tourism office is offering hotel and city specials for stays in 2015. The package, called "Düsseldorf à la Card," can be booked right from the tourism office's website at https://www.duesseldorf-tourismus.de/en/accommodation/hotel-packages/duesseldorf-a-la-card/. Prices start at €49 per night per person based on double-occupancy for a 2-3-star hotel in the city center and at €95 per person for a 4-star hotel. The package includes breakfast, one DüsseldorfCard (free public transportation within city limits plus 30 free or reduced admissions to city attractions), and a city information package. Please check the website for current information.
# # #
Düsseldorf Marketing & Tourism GmbH is the visitors and convention bureau of the city of Düsseldorf. Its responsibilities include tourism and city marketing, as well as conference and meeting marketing, hotel reservation services, fairs and convention services, city event ticket sales and advance ticket reservations. For more information, visit http://www.visitduesseldorf.de.
Düsseldorf Airport, Germany's Next Generation HubTM, offers several non-stop flights from US cities (Atlanta, Chicago, Ft. Myers, Los Angeles, Miami, New York, Newark), as well as convenient connections to many European cities. For more information about the airport, visit http://www.dus.com.