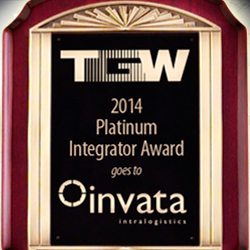 As TGW's top regional and second largest national customer, we are very proud to be recognized for our work.
Conshohocken, PA (PRWEB) April 21, 2015
Invata Intralogitics, a supplier of purpose-built warehouse automaton solutions that are uniquely conceived, exactingly designed, and meticulously integrated, and TGW, a one-stop supplier of logistics solutions, today jointly announced that Invata has been awarded TGW's Platinum Integrator Award.
Each year TGW recognizes a select few integration firms with their Platinum Integrator Award. This year's award acknowledges Invata amongst an elite group that not only applies TGW products successfully, but does so at the highest level of the integrator network.
Invata has been a TGW integrator since it's inception and has steadily grown its standing in the TGW network, while fueling its own growth. Invata has utilized the full range of conveyor systems available from TGW, including their sliding shoe sorters, narrow belt sorters, and an industry leading motor driven roller conveyor.
"We are appreciative of not only the outstanding level of business Invata has awarded us but the ability to be part of their growth," says Jim Bronsama, Vice president of TGW. "Invata has been a loyal integration partner and we look forward to helping them provide purpose-built solutions for their customers utilizing TGW equipment."
"As TGW's top regional and second largest national customer, we are very proud to be recognized for our work. I look forward to even greater successes with TGW in the future," said Jay Moris, Invata's Chief Marketing Officer, "Many of us at Invata have worked with TGW for decades, and we are pleased to make them an important part of our warehouse automation systems. The deep experience of our Invata team allows us to leverage the capabilities of TGW conveyors in truly unique ways."
About Invata Intralogistics
Invata Intralogistics, Inc. is an authority in the design, implementation, and life cycle support of automated fulfillment and distribution center operations with demonstrable expertise in both warehouse software and systems engineering and development.
Specializing in the symbiotic integration of the flow of information with the flow of material goods, Invata offers complete solutions that begin with in-depth operational analysis and end with purpose-built, turnkey intralogistics systems that optimize processes and resource utilization, while maximizing operational efficiency.
The result is a seamless synthesis of process and technology that engenders leaner, more productive, more adaptable, and more profitable fulfillment and distribution enterprises.