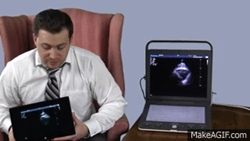 From the Paramedic to the ER
Indianapolis,IN (PRWEB) April 21, 2015
Point of Care Ultrasound is an ultrasound education company and is pleased to announce its first comprehensive service that will enable medics to perform and Stream live ultrasound images from an emergency scene to an emergency department or a consultant's smart device. Without taking valuable treatment time away from the most critically ill patients, more advanced determinations will immediately be able to made regarding patients with such serious conditions as cardiac arrest or internal bleeding from trauma.
We will be able to determine the best hospital for many simultaneous patients in a mass causality scenario. We will also be more individualized to the patients' conditions. Point of Care offers the total package for paramedics including extensive education, the machine, transmission device and coordination with emergency departments where patients will be transported.
For further information, please email clinician.ultrasound(at)gmail(dot)com or call (877) 422-4239.
https://www.pocmedicultrasound.com
Founder- Mike Welsh
Developer of Patient Pending Ultrasound Streaming Technology - Cody Neville