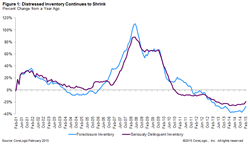 Forty-eight states posted year-over-year declines in the foreclosure inventory
Chicago, IL (PRWEB) April 19, 2015
The Federal Savings Bank was intrigued by a recent article from Corelogic.com regarding national foreclosure inventories.
Corelogic, a North American corporation providing financial, property and consumer information released a headline on April 14th titled "National Foreclosure Inventory Down 27 Percent Year Over Year in February." According to the report, this decline also marks "40 months of continuous year-over-year declines in the foreclosure inventory, including 25 straight months of declines greater than 20 percent."
Completed foreclosures also fell 16.1% from February 2014 to just 550,000. Further, "seriously delinquent inventory fell to 1.5 million loans, a 19.3-percent year-over-year decline."
On a state by state basis, "The five states with the largest year-over-year drop in the foreclosure inventory were: Florida (-46.4 percent), Maine (-42.2 percent), Idaho (-38.2 percent), Connecticut (-35.5 percent) and Illinois (-34.7 percent). Forty-eight states posted year-over-year declines in the foreclosure inventory, with 44 of those states showing decreases of more than 20 percent. Massachusetts (+6.6 percent), Wyoming (+14.8 percent) and the District of Columbia (+32.6 percent) experienced year-over-year increases in the foreclosure inventory."
The Federal Savings Bank finds all of this data very positive since implies that home prices will continue to rise. When the market has a lack of bargain priced homes, prices naturally rise as buyers begin chasing higher priced homes. Since 2015 is expected to be a big year for mortgage applications, especially for first-time home buyers, The Federal Savings Bank expects a continuation of declining foreclosure inventory in the months ahead.
Home buyers should get pre-approved for a home loan before everyone else does to get a head start on the home bidding process. As home prices rise and more Americans get pre-approved mortgage rates will also rise, in fact, the Federal Reserve intends to intentionally raise rates soon this summer. Thus, to avoid the worst scenario of, more competition, higher rates, and higher home prices, The Federal Savings Bank strongly encourages every prospective home buyer to get a pre-approved for a home loan soon.
Contact The Federal Savings Bank, a veteran owned bank, to learn more about mortgages