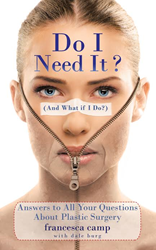 NEW YORK CITY (PRWEB) April 20, 2015
Plastic surgery is dramatically increasing in the United States. 2013 saw a 14% jump in cosmetic procedures from the prior year, according to the American Society for Aesthetic Plastic Surgery. That's more than 11 million cosmetic surgical and nonsurgical procedures, totaling more than 12 billion dollars. But did everyone need it? And if they did, where could patients turn for objective, candid and professional advice on every step of the process?
Francesca Camp, M.S.W., an image expert and independent plastic surgery consultant, has spent more than 20 years informing and aiding patients with the pre- and post-surgery process. Having counseled burn patients, cancer survivors, victims of abuse and elective surgery patients—and having gone through plastic surgery herself, Camp intimately understands both the strengths and the limitations of plastic surgery.
Camp shares her insider knowledge in her new book, "Do I Need It? (And What if I Do?): Answers to All Your Questions About Plastic Surgery" (Archway, March 2015).
While other books about plastic surgery focus on the surgery itself, "Do I Need It?" is different. It's a definitive hand-holding guide for the entire process. Camp answers the tough questions for those thinking about plastic surgery -- questions such as: "Where do I find a surgeon?," "What questions should I be asking?," "What are the real risks?," and the key question, "Do I really need it?"
The book, considered the "What to Expect…" for plastic surgery, offers practical tips, such as how to set a realistic timetable, choosing the right bedding for recuperation, what foods to avoid, and how to protect your investment.
With an authority earned through years of hands-on experience, coupled with easy-to-understand language, a reassuring attitude and a touch of humor, Camp provides a unique resource for those thinking about plastic surgery, from research to recovery to maintenance.
About the author
Francesca Camp holds a master's degree in social work from New York University. During graduate school, she worked with battered and abused women and burn patients in need of facial reconstruction. After graduate school, she spent 18 months working at a burn clinic in Chile.
Francesca also has firsthand experience as a cosmetic surgery patient. After an accident years ago that left her with a broken cheekbone and other fractures, she decided to use her own life changing experience to help others who face similar circumstances. She worked closely with world-renowned plastic surgeon Dr. Sherrell J. Aston, FACS, in his private practice, running an aftercare clinic that helped his patients long after the surgery had ended.
Currently, Camp is one of the world's top independent plastic/cosmetic surgery consultants, maintaining offices in New York, Florida and Vienna. She is a member of Finding a Cure for Epilepsy Seizures (F.A.C.E.S) and has served as a board trustee at Hackensack Medical University.