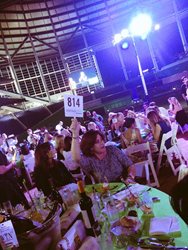 "We are delighted to partner up with LIttle Palm Resort for this unique travel experience." Rob Ceravolo, CEO Tropic Ocean Airways
Fort Lauderdale, FL (PRWEB) April 20, 2015
Tropic Ocean Airways donates live auction item for Veritage Miami benefiting United Way of Miami-Dade. The round trip flight for two from Miami Seaplane Base, on Watson Island to Little Palm Resort in the Florida Keys, including accommodation provided by the resort, will be operated by two of Tropic Ocean Airways pilots in one of their late-model Cessna Amphibian aircraft.
Veritage Miami is an annual well-attended four-day wine, beer, liquor, and food festival with activities ranging from tasting events, exclusive chef presentations, live music and interactive dinners.
The events spanned the county from Wynwood to Coral Gables, and a dinner with live auction at the Marlins Stadium. Attendees included local celebrities and business professionals.
"We [Tropic Ocean Airways] support our communities and are glad to donate to a local cause," said Tropic Ocean Airways CEO Rob Ceravolo. "We are delighted to partner up with Little Palm Resort for this unique travel experience."
Tropic Ocean Airways is expanding their operations further strengthening their position as a leading airline in South Florida and the Bahamas providing clients with a premium travel experience. The airline has experienced rapid growth in the first few years of operation, to the point where today they are flying private charters, scheduled destination flights, cargo, medical comfort evacuations and direct to yacht provisioning services.
About Tropic Ocean Airways:
Founded in 2009 by US Navy TOPGUN Graduate Rob Ceravolo, Tropic Ocean Airways LLC is an FAA-certified air carrier specializing in private terminal service throughout Florida and the Caribbean. Tropic Ocean Airways fleet of late-model Cessna Caravan Amphibians are handled by highly experienced military aviators and seaplane instructors providing service to private travelers as well as companies and organizations within the yachting and boating industry.
For more information please visit our website at http://www.flytropic.com or our sites on Facebook and Twitter.
For further information contact: Tropic Ocean Airways mail: media@flytropic.com