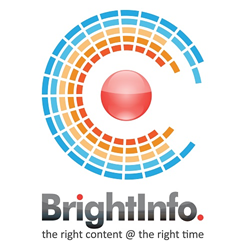 We're excited that, now with the Brightinfo integration, HubSpot users can create personalized content recommendations across their website, blog and landing pages
(PRWEB) April 20, 2015
BrightInfo today launched its new BrightInfo for HubSpot integration, an easy way to gain more from BrightInfo in businesses powered by HubSpot Marketing Automation, across their Website, landing pages and blogs.
BrightInfo's cloud solution has been proven to increase online conversions by up to 76% while dramatically reducing the cost per lead for businesses of all sizes. Leveraging the business existing online marketing materials, BrightInfo dynamically delivers personal, relevant content recommendations to each anonymous visitor based on digital behaviors, pages read and stage in the buying journey. With optimized solutions for corporate websites, blogs and landing pages, recommendations are made across every online interaction automatically and advance anonymous visitors through the buyer journey toward becoming customers or prospects.
"The best marketers recognize that each visitor to their website is unique," said Meghan Keaney Anderson, director of product marketing at HubSpot. "We're excited that, now with the Brightinfo integration, HubSpot users can create personalized content recommendations across their website, blog and landing pages that adapt to the interests of each visitor. Integrations like this further our ability to treat prospective customers like people, not anonymous website visitors."
Up and running in minutes, BrightInfo requires virtually no manual effort and no changes to website content, tagging or organization. The BrightInfo recommendation engine automatically and continually indexes content and determines which content is most effective in engaging and converting visitors. Built-in reports and analytics provide insights about the business content engagement and visitor interests to assist ongoing optimization of the online experience.
"Adding BrightInfo to our two product websites, their many landing pages and three different blogs was seamless and super simple," said Jeanne Hopkins, Senior Vice President and CMO at Continuum. "It immediately provided a 22% jump in prospect leads, and integrated well with our HubSpot suite. You have one shot at converting new online visitors – and now we've found a way to maximize this opportunity with BrightInfo's adaptable content delivery platform."
"The buyer's purchase journey had changed. According to CEB, 57% of the customer purchase decision is complete before a customer ever contacts the business." said Boaz Grinvald, CEO of BrightInfo. "It is critical for businesses to engage with their anonymous visitors and help them become known prospects or customers. We are honored to work with HubSpot customers to help them accelerate their growth."
The BrightInfo HubSpot Integration provides the following benefits:

Recognize known leads and target anonymous visitors differently
Enrich BrightInfo-assisted leads within HubSpot with extra data for tracking and analysis
Store leads generated through BrightInfo dynamic forms directly into HubSpot automatically
More information about the BrightInfo for HubSpot integration is available at http://www.brightinfo.com/hubspot-integration/
About BrightInfo
BrightInfo increases online conversion and engagement by offering the easiest way to engage with your anonymous visitors across every touch point. With BrightInfo, every website that leverages content marketing can offer the most relevant content to each anonymous visitor – dynamically, in real time and on each page visited.
Businesses that leverage BrightInfo increase visitor engagement dramatically. The service helps ensure visitors are exposed to the most relevant content, consume more content on average, and sign up more for premium content.
BrightInfo requires no configuration, customization or integration and delivers value within minutes of sign up. Visit http://www.brightinfo.com/ to learn more.