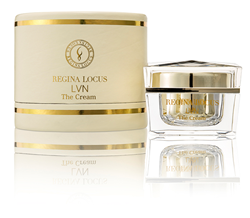 Tokyo, Japan (PRWEB) April 24, 2015
REGINA LOCUS Co., Ltd. (CEO Takeshi Matsushita, Aichi Japan) globally launched LVN The Cream (30g, US$1,000) on April 24th. It is the promoted on their official website. The cream is the first series of their high-end anti-aging cosmetics line.
LVN The Cream is an anti-aging cream combined (*1) with REGINA LOCUS's unique moisturizing ingredients that remove the stickiness and discomfort of typical luxury creams and completely fix skin troubles like wrinkles, sagging, dullness, and certain spots related to aging for people who are beauty conscious and in search of products to help them stay beautiful.
This cream is made with 10% fullerene, an anti-aging ingredient that has 172 times the antioxidants of vitamin C, which is good for whitening, dullness prevention, anti-wrinkling, and skin barrier function recovery—all at the same time. This cream has the world's highest concentration of fullerene as well as 29 other kinds (*2) of anti-aging ingredients, including a new vitamin C derivative (APPS), astaxanthin, and proteoglycan that promotes the metabolism and reconstructs the dermis. The skin gets repaired and becomes younger when using this cream.
Fullerene is high in antioxidants; from the moment of application, it helps to clear the active oxygen that causes aging inside the skin. The new vitamin C derivative promotes collagen production inside the skin to improve wrinkles and sagging. On top of that, the production of melanin is controlled, causing spots and dullness to diminish. A total of 29 types of anti-aging ingredients help to enhance the skin and slow aging. Compared to anti-aging creams containing collagen that only moisturize, this cream promotes the production of collagen for the skin itself. It improves skin troubles and focuses on regenerating skin. The company is planning to expand the LVN series (its best series) to serum, face wash, and oil cleansing.
Development Background
Since REGINA LOCUS was founded in 2013, it has been steadily gaining popularity as an anti-aging care specialist brand focused on fullerene. Focusing on the best aging care produced by REGIN LOCUS, LVN The Cream was released as the company's first product in a top-class line. Fullerene is very high in antioxidants (172 times that of vitamin C) and a nature that depends on its concentration (the higher the concentration, the greater the effect). For this reason, the company decided to develop a highly concentrated cream with 10% fullerene, which is the highest concentration in the world. The company aimed to develop a cream that was not sticky.
How to Apply

Apply some LVN The Cream on your face and neck from the bottom to the top after washing face every morning and evening.
Apply the cream evenly on face and neck. The wrinkle parts are not easy to apply on, so apply from the bottom to the top giving attention to the wrinkles as well.
There's no limit so there's no problem applying many times when your skin is dry. Please apply enough for the concerned parts and the wrinkle parts. It is very efficient applying a portion 2mm thick on face as a cream pack.
Please use one container a month as an indication.
*: It has been confirmed that Vitamin C60 BioResearch Corporation (Tokyo, Japan) engaging in fullerene manufacture and sales all over the world that our fullerene 10% cream product is the first fullerene cream in the world.
*1: glyceryl stearate, stearic acid, peg-25 stearate, sorbitan stearate, acrylates/c10-30 alkyl acrylate crosspolymer
*2: squalane, fullerenes, trehalose, arginine, tocopherol, sodium hyaluronate, alpha-arbutin, trisodium ascorbyl palmitate phosphate(apps), astaxanthin, allantoin, pueraria thunbergiana root extract, aloe barbadensis leaf extract, chlorella vulgaris extract, clematis vitalba leaf extract, equisetum arvense extract, fucus vesiculosus extract, hedera helix (ivy) leaf/stem extract, spiraea ulmaria flower extract, arnica montana flower extract, cucumis sativus (cucumber) fruit extract, malva sylvestris (mallow) flower extract, parietaria officinalis extract, sambucus nigra flower extract, chinpi ekisu(jtn), placental protein, simmondsia chinensis (jojoba) seed oil, cladosiphon novae-caledoniae polysaccharide(fucoidan), argania spinosa kernel oil(argan oil), soluble proteoglycan, a total of 29 ingredients
Product information
The anti-aging cream that regenerates visually and repairs the skin history from the moment of applying.
Product name: LVN The Cream  
Weight: 30g
Price: 1,000 USD