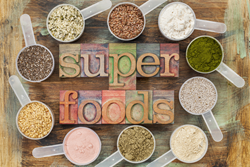 Without adequate protein, the body cannot put together the structures that make up every cell, tissue, and organ, nor can it generate the biochemical substances needed for cardiovascular function, muscle contraction, growth, and healing
Orland Park, Illinois (PRWEB) April 20, 2015
"Protein powder can play a significant role in increasing strength and building muscle, aid in reaching a desired weight loss goal or helping supplement a healthier diet," began Diana Sourek, MS, CNC, Certified Gluten Practitioner, and Manager, New Vitality Health Foods, Inc.
Benefits Of Protein Powder
1. Muscle Building and Increase Strength
Numerous studies show that protein powder can help increase strength, and gain muscle while helping lose body fat. (1) Adequate protein and carbohydrate intake is needed before, during, and after a rigorous exercise regime. In fact, a sign protein intake may be too low is if the athlete feels unusually fatigued, feel weak during strenuous activity, or recover slowly from injuries. Without adequate protein, the body cannot put together the structures that make up every cell, tissue, and organ, nor can it generate the biochemical substances needed for cardiovascular function, muscle contraction, growth, and healing.
2. Weight Loss and Meal Replacement
If the goal is to lose body fat, select a protein powder that is mainly protein has fewer carbohydrates, and low in fat. Make sure the product is more than 50% protein if the goal is to lose body fat. Portion control is a major problem for many people, and since protein powders have controlled portions of calories, fat, protein and carbohydrates it makes them a convenient option. Additionally, protein will keep a dieter feeling full for longer than other types of foods.
3. Dietary Supplement and Other Benefits of A High Protein Diet
For someone who is on a restricted diet and whose protein intake is inadequate, supplementing with a protein powder may be necessary. This is especially important for those who suffer from chronic illness and the elderly. Older Americans often eat less protein than they need for proper health and nutrition. Severe protein deficiency in the diet can lead to impaired delayed wound healing, loss of lean body mass and is even found to be a contributing factor for depression, as well as blood pressure and blood sugar issues. (2) Introducing a protein powder drink supplement can also provide added caloric intake.
"When it comes to protein powders, buyers really do have a diverse choice. Selecting the appropriate protein powder can be confusing. Knowing their differences and the advantages each type of protein power can yield is an initial step that needs to be explored," Sourek added.
Types of Protein Powders
Whey protein powder is a mixture of proteins isolated from whey. Whey is the liquid part of milk that separates during cheese production. Whey protein contains a healthy range of amino acids that are absorbed quickly. Whey protein has become a favorite supplement for those seeking to put on muscle and enhance their physiques as well as improve their health. Because whey protein powder is derived from milk, it is not an option for someone with a dairy intolerance. Consuming too much whey protein too fast can cause digestive issues. Protein powders made from whey tend to be creamier and mix better.
Plant based protein powders stem from a broad range of ingredients that typically can include soy, hemp, pea, and brown rice protein. Plant based protein powders have many benefits for health and fitness, for all diets and lifestyles. It provides a convenient source of protein for vegetarians and others who follow restricted diets. It is easily digested, making it an excellent alternative for anyone with a sensitive stomach. There are a variety of plant based protein powders available. Some are made with more of an emphasis on one particular protein, such as brown rice protein. It is important to read the ingredients carefully.
Vegan protein powder blends have become an increasingly popular choice, harnessing the power of hemp, peas, rice, quinoa and more — all in the same bottle. The result is a gluten free, dairy free and soy free supplement that can nutritionally stand up against animal-based products, without users having to worry about amino acid deficiencies or upset stomach.
Sourek continued, "I stress to my customers the importance of reading the label carefully to ensure they select a protein supplement that will clearly help them achieve their goal. Key things to look for are the amount of protein per serving, carbohydrates, sugars, preservatives, calories and to be mindful of any allergy considerations they may have."
New Vitality Health Foods, Inc. carries a wide selection of protein powder supplements. The experienced New Vitality team, are eager to learn about their customer's health goals, and help select a protein powder that will help achieve them.
Sources:
(1) http://authoritynutrition.com/whey-protein-101/
(2) http://www.livestrong.com/article/257940-what-are-the-benefits-of-a-protein-shake/
About New Vitality Health Foods, Inc.:
Established in 1988, New Vitality Health Foods, Inc. provides Chicagolands' largest selection of allergy-free foods that have met their high standards for taste, quality, and nutrition. New allergy-free foods are introduced weekly. They also carry frozen foods, vitamins, herbs, homeopathic, aromatherapy, body care, pet care, household items and much more. New Vitality features only the highest quality, effective nutritional supplements to support their customers' total health. New Vitality Health Foods, Inc. is located at Orland Park Crossing, 14225 S. 95th Avenue Suite 410, Orland Park IL, 60462. (708) 403-0120 http://www.newvitalityhealthfoods.com