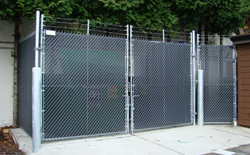 Automated gates are an investment for homes.
Vancouver, BC (PRWEB) April 20, 2015
A new blog published by QS Fencing Company states that automated gates are an investment for homes and should not be looked at as a cost. Since these highly mechanized motor gates are naturally more expensive than manual ones, they are higher in cost. Apart from being more expensive at the time of purchase, they are also costly to maintain. Despite these seemingly disadvantageous features, motor gates are still deemed to be a wise investment by security gates guru, QS Fencing Company.
"Automatic gates are considered motors and therefore require certain care and maintenance," states the new blog by QS Fencing Company. "The cost of an automatic gate may seem high at first, but consider it an investment, especially if a maintenance contract is included. This is always a good thing to keep in mind because keeping your motors regularly in tune can greatly reduce the more expensive future costs for repair or replacement."
With people anticipating a climbing crime rate in the now highly populated Vancouver region, installing automatic security gates can be a blessing and a source of mental ease, since the homeowner would not have to worry about security all the time. In spite of providing safety to the home, security motor gates by QS Fencing Company are made in such a way that they add to the beauty of the client's property. They do not look daunting or unwelcoming.
About QS Fencing
Established in 2010, QS Fencing is a young family-owned business that aims to provide quality products and superior service. It is a Vancouver Fencing Company that is licensed and insured. All their employees are WCB insured as well. QS Fencing serves the geographical areas of Vancouver, West Vancouver, North Vancouver, Burnaby, New Westminster, Coquitlam, Port Coquitlam, Port Moody, Maple Ridge, Richmond, Surrey, and Delta, BC.
To place an order at QS Fencing, visit http://www.qsfencing.ca or call (604) 345-5145.