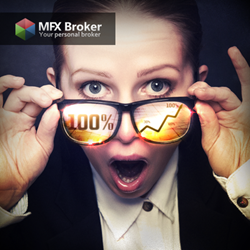 MFXBroker - Awarded by prestigious Global Banking & Finance Review Award in 2014, and by IAIR Awards in Best Investment Products nomination in 2015
Russia, Saint Petersburg (PRWEB) April 24, 2015
On 21 April 2015, International Financial Company MFXBroker, with a long-lasting positive and dynamic development in the Forex industry, notified its clients about its entry into the European market. Besides this information, the company announced an elegant present for all clients – an opportunity to invest in the Company's European project and get an outstanding profit during the first year.
According to Margarita Zhiznevskaya, investment manager, MFX Broker's entry into European markets is a very important event. For this very reason, MFXBroker gives presents to those who have shown their confidence in MFX Group and chose it as a partner in operation on financial markets. Only 50 clients of MFX which are the first to deposit at least $10,000 will have their deposits doubled. The funds can be deposited to the account of MFX Capital investment program via the personal cabinet. Withdrawing of the doubled amount will be available in a year since investment.
It is worth mentioning that MFX Capital develops rapidly on the market of investment services. The program was awarded by prestigious Global Banking & Finance Review Award in 2014, and by IAIR Awards in Best Investment Products nomination in 2015. Long-term history and experience of a large team of MFX analysts can guarantee break-even deposits for investors whose profit can increase interest rates on bank deposits by dozen times.
Read the news original on the site of MFX Broker.
Contacts:
m.zhiznevskaya(at)mfxbroker(dot)com
info(at)mfxcapital(dot)com
http://www.mfxcapital.com
http://www.mfxbroker.com
+7 (812) 429 72 07
Online chat