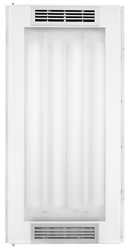 "The HRMS gives parents an extra sense of comfort when bringing their children to a Family Care Partner facility."
South Bend, Indiana (PRWEB) April 22, 2015
Family Care Partners was established in 1975 by Dr. William Carriere who built the successful business from a solo practice into a 7 location - 50 provider, primary care group. Family Care Partners is recognized locally as a leader in providing high quality, cost effective primary care. Now they have invested in a cutting-edge technology called the Health Risk Management System (HRMS) to ensure that patient care remains priority one.
"We have worked hard to create a practice that uses state-of-the-art technology to ensure that we provide the best healthcare possible," said Dr. William Carriere, founder of Family Care Partners. "The HRMS system provides an extra layer of protection for our patients and even staff members. For instance, we have installed several units in rooms where pediatric patients are treated. Because of their under-developed immune systems, young children are more susceptible to viruses and bacteria. The HRMS system should give parents an extra sense of comfort when bringing their children to a Family Care Partner facility."
"The HRMS system does not replace a step in a healthcare facility's standard, infection prevention protocol," said Danny Bogar, CEO for AGT. "It's an additional tool to complement current procedures that are already in use. Many facilities use UV in their HVAC systems, but the level of disinfection doesn't come close to what the HRMS provides. Our solution eliminates environmental pathogens brought in from the outside and more importantly, pathogens brought in by people inside the building."
Manufactured by American Green Technology® (AGT), the HRMS is a patented environmental disinfection solution that combats Healthcare-associated Infections or HAIs by purifying the air and reducing the amount of bacteria and viruses that travel on air currents and land back on surfaces.
The HRMS is distributed exclusively in the Florida market by Airborne Pathogen Removal. To learn more about this innovative system, log onto http://www.airbornepathogenremoval.com.
About Family Care Partners:
Family Care Partners has been providing medical care to the Jacksonville, Florida community for over 40 years. As an organization, we highly value trusting relationships with our patients, a commitment to the highest quality of medical care and a keen ability to coordinate our patients' journey through the healthcare system as a whole. We believe in offering as much convenience to our patients as possible. We are constantly improving our process to give patients the best overall healthcare experience imaginable. http://www.familycarepartners.com
About American Green Technology:
American Green Technology® (AGT) is a company dedicated to developing innovative, sustainable products to positively impact the health, economy and environment of global communities. AGT's Health Risk Management System (HRMS) is a patented UVC lighting product clinically proven to eliminate 99.7% of airborne pathogens that cause Healthcare-associated Infections (HAIs) in hospitals or wherever it is installed. http://www.agthrms.com
# # #