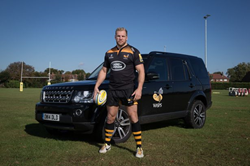 (PRWEB UK) 20 April 2015
Aviva Premiership rugby club Wasps have teamed up with the UK's largest car sharing community Liftshare.com to provide Wasps supporters with a cheaper, cleaner form of travel to the Club's new home at the Ricoh Arena in Coventry.
The dedicated Wasps car share scheme launches today in time for the Club's crucial home game against Exeter Chiefs on Sunday 26th April at 2pm. Wasps are providing fans with another option to help save money on travel to the Ricoh Arena by using the Liftshare.com service. The service will also be open to fans travelling to away games around the UK.
Liftshare will work with Wasps to help ease transport worries for fans travelling to each home and away fixture, as well as helping lower carbon levels in cities due to fewer cars arriving on match day. Car shares are consistently cheaper than most forms of public transport and it is hoped this reduced cost will result in an even larger number of Wasps fans in the stands each week, either home or away.
Ali Clabburn, founder at Liftshare said, "Wasps have amazing fans and a fantastic new home. Sharing the journey to the Ricoh Arena and away matches not only saves money but turns lonely journeys into great tours."
Nick Eastwood, deputy chairman of Wasps added, "We always encourage our fans to try and car share where possible – it's good for the environment and cheap – so we are delighted to team up with Liftshare to give our supporters another option of travelling to the Ricoh Arena and away games."
Using Liftshare, drivers are able to post details of any car journey and offer their spare seats for a split of the total petrol cost, while those without cars are able to request or accept lifts to wherever they need to go - whether it's a rugby match, festival or place of business.
The site recently released its official iOS and Android apps, created in collaboration with global marketing and technology agency DigitasLBi, which enable both drivers and passengers to find even more lifts, direct message each other and take advantage of one-tap cashless payments. It was named the Guardian's top travel app for February 2015.
Editor's Notes:
Liftshare.com is part of the sharing economy, a global sector of new forward-thinking sites and charities that strives to make the world a more engaged, social, affordable and eco-friendly place through collaborative consumption.
Liftshare was conceptualised by founder Ali Clabburn, after posting lift requests on University forum boards in the late '90s. It now provides green travel solutions for local councils, University sustainability departments, music festivals and nationwide retail chains in a B2B capacity.
The site strives to help UK citizens banish transport poverty and social isolation by getting them travelling on the road together in a collaborative environment.
About Wasps & the Ricoh Arena:
Wasps is a professional rugby team which plays in the Aviva Premiership, European Rugby Champions Cup and LV=Cup. Wasps has been crowned European Champions twice and English Champions five times. For more information about the Club and our partners please visit http://www.wasps.co.uk
The Ricoh Arena is an award-winning venue which has a mix of state-of the-art conference, banqueting, exhibition, hotel, music and sports facilities. Visited by over 1.2million people each year, it is a firm favourite in the UK for music promoters as well as business and sports event organisers. The facilities include:

32,600 seat stadium
A 121 room hotel
One of the UK's largest casinos
20,000sqm of conference and exhibition hall
2 restaurants
2,000 onsite car parking bays