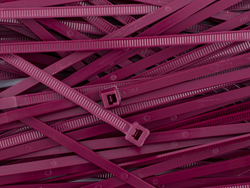 Quakertown, PA (PRWEB) April 21, 2015
As America's leading supplier of cable ties and flexible fasteners for both homeowners and professional A/V installers, Secure Cable Ties is pleased to announce that plenum-rated flexible nylon cable ties are now available through their on-line store.
According to Jeramie Cavanaugh, Secure Cable Ties is dedicated to providing a reliable, U.S.-based source of hard-to-find, professional-grade cable ties, zip ties and hook-and-loop fasteners. That's why adding a premium product like plenum-rated, self-extinguishing nylon cable ties was a logical choice for this Pennsylvania-based e-commerce company.
"Our customers demand products they can count on to both deliver exceptional real-world performance and meet all the requirements of local fire codes." said George McDowell "Fire regulations and building codes across the country are being revised to provide greater protection from electrical fires, which has led to higher standards for the materials used within plenum spaces, such as the areas below raised floors or between suspended ceilings. These plenum-rated, high-tensile nylon cable ties have a UL Flame Rating of 94V-2, making them compliant with most local fire codes in the United States."
"These plenum-rated nylon cable ties are available in two lengths - 7" and 14", and are sold in economical packs of 100," said Jeramie Cavanaugh "The distinctive burgundy color makes it easy for both installers and building inspectors to quickly identify these cable ties as being plenum-rated, while the 0.19" width of these cables makes them easy to handle and fasten, even with one hand. In addition to the self-extinguishing qualities of these nylon ties, our plenum-rated fasteners are highly resistant to both chemical deterioration and breakdown from abrasion, making them one of the most durable, long-lasting fire-rated fasteners on the market today."
"Secure Cable Ties has become the preferred supplier of specialty A/V fasteners for both commercial installers and homeowners across the United States," said George McDowell "Our ever-growing customer base has told us how important it is to have a reliable American supplier for specialized cable ties, flexible fasteners and accessories. We've also received a great deal of positive feedback regarding our easy-to-use on-line store, which lets our customers order all their fasteners 24 hours a day, 7 days a week from the comfort of their home or office."
About Secure Cable Ties
Secure Cable Ties is the leading U.S.-based provider of specialized flexible fasteners for the A/V installation industry. The stock a wide variety of hard-to-find nylon and metal cable ties, hook-and-loop straps and electrical tape.