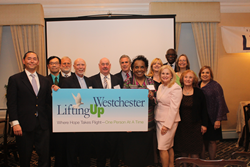 Westchester County, New York (PRWEB) April 20, 2015
Grace Church Community Center, the 36 year-old Westchester County social services organization, has announced its re-launch with a new, comprehensive brand identity and tag line: Lifting Up Westchester: Where Hope Takes Flight – One Person at a Time. The unveiling of the new brand identity took place at the organization's Oasis of Hope spring gala at Leewood Golf Club in Eastchester on April 17, with more than 200 patrons and supporters in attendance. A community-wide celebration open to the public is slated for late spring.
"This is a major milestone in our organization's long history," remarked Paul Anderson-Winchell, Lifting Up Westchester's Executive Director. "For 36 years we have been a hidden gem in this county. A more identifiable name is integral to increasing our impact in Westchester. That said, our mission remains intact: to restore hope to our neighbors in need." Chris Schwartz, Director of Development, added "Our vision is to continue our legacy of providing people in need with food, shelter and support and lift them to greater self-sufficiency with dignity and respect. Equally important is that we focus on the individual – helping one person at a time."
Lifting Up Westchester provides the following assistance to Westchester County's neediest and most at-risk residents:

For the 2,000 homeless in the county, services includes Grace's Kitchen which annually provides over 20,000 free and nutritious weekday and holiday meals, Samaritan House Women's Shelter and Open Arms Men's Shelter, in addition to housing services to prevent eviction and homelessness.
For disadvantaged and homeless youth in the county, Lifting Up Westchester offers five weeks of summer day camp, an after-school mentoring program and college scholarships to help them to be the first in their families to get a college degree and the last to live in poverty.
Seniors/Disabled Individuals
Lifting Up Westchester's Neighbors Home Care Services, a licensed home healthcare services agency, offers quality homecare to over 400 homebound seniors and disabled individuals annually.
Board member Linda Gallo, who spearheaded the rebranding initiative, noted that "The prevailing perception of the organization as a church and/or community center is inaccurate. Board executives, patrons and staff members expect the Lifting Up Westchester rebrand to change this perception and significantly boost awareness of our organization." In addition to the new name, tagline and logo, a year-long marketing program is underway with multiple public events to showcase the services provided by the organization in an effort to drive awareness, increased donations and volunteers.
For more information, please visit http://www.liftingupwestchester.org or contact Chris Schwartz at chrisschwartz(at)liftingupwestchester(dot)org or (914) 949-3098.
Lifting Up Westchester (http://www.liftingupwestchester.org) is a 501 (c )(3) organization whose mission is to restore hope to Westchester County's men, women and children in need by providing them with food, shelter and support- lifting them to greater self-sufficiency with dignity and respect. It is one of the largest social services agencies in Westchester County and has been fulfilling its mission since 1979 through the operation of eight community-based programs. The agency serves 4,000 men, women and children each year providing 140,000 meals to the hungry and 28,000 nights of shelter to the homeless.