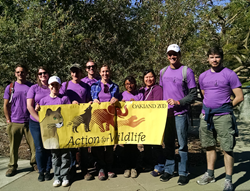 From day one, Marstel-Day has been committed to spending Earth Day working with community partners on environmental projects
Fredericksburg, VA (PRWEB) April 20, 2015
On April 17, Marstel-Day, LLC celebrated Earth Day by partnering with organizations to restore habitat, conserve water and support local environmental non-profits. The environmental consulting firm's 150 employees in the United States and the United Kingdom worked on conservation projects, in keeping with the firm's company-wide Earth Day participation.
"From day one, Marstel-Day has been committed to spending Earth Day working with community partners on environmental projects. Our 11 offices are located in urban environments where our work can have an impact by supporting natural resources as well as enhancing the quality of life for the millions of people who live and work there," noted Marstel-Day President and CEO Rebecca R. Rubin.
Visit http://www.marstel-day.com/earthday to view locations where Marstel-Day staff volunteered this year.
Projects included the Meadowview Longleaf Pine project in Virginia, which is "the largest forest ecosystem restoration project in the country by far," said Phil Sheridan, president of Meadowview Biological Research Station.
A complete listing of projects nationwide that the Marstel-Day team worked on included the following:
Marstel-Day projects in Virginia:
Friends of the Rappahannock: Created oyster reef structures, which provide habitat for the blue crab and striped bass, as a part of the Friends of the Rappahannock's Oyster Reef Sanctuary program and living shoreline project. Stabilized 40 feet of eroding shoreline in Port Royal by planting 800 native grass plugs.
Downtown Greens: Planted 4?5 native trees and laid 80 feet of impervious pavers to replace an eroding pathway, which will reduce stormwater runoff and pollutants carried from roads and into waterways, as well as restore water tables for plants and drinking water.
Tree Fredericksburg: Planted 60 trees, which will collectively reduce atmospheric carbon by 69,600 pounds per year, and planted a pollinator garden at Maury Playground, increasing habitat for bees, butterflies, and hummingbirds.
Meadowview Biological Research Station: Planted 1,000 longleaf pine seedlings as part of Virginia Longleaf Pine Cooperators' goal of planting 15,000 acres of longleaf pine in 15 years.
Fredericksburg and Spotsylvania National Military Park: Collected litter along Lee Drive, a historic scenic byway. Removing trash protects waterways from pollution, including plastics that could pollute the oceans and endanger marine wildlife.
Marstel-Day projects in California:
Planted desert gardens and trees at the Gardens at Lake Merritt, Batiquitos Lagoon Foundation, and Joshua Tree National Park, preserving biodiversity and conserving water. Also, assisted with Condor Recovery at Oakland Zoo.
Marstel-Day projects in Texas:
Cleared trails and restored native plant displays, at Lake Mitchell Audubon Center Trail Stewards in San Antonio. Volunteered at Earth Day Texas, an annual, outdoor festival raising environmental awareness.
Marstel-Day projects in Tennessee:
Volunteered with Clean and Green Chattanooga, a citywide clean-up program, and with the Nature Conservancy.
Marstel-Day projects in North Carolina:
Volunteered with river cleanup from a boat to support the North Carolina Coastal Federation, and with the annual Durham Earth Day Festival.
Marstel-Day projects in South Carolina:
Volunteered with the Sea Turtle Conservation Project locating and protecting bird nests on the beaches of Hunting Island State Park.
Marstel-Day projects in Indiana:
Collected litter in three sites in Fishers, Indiana and documented the activity on Instagram as a part of the Litterati project.
Marstel-Day projects in Georgia:
Planted, weeded and harvested Oxford College's organic garden, which supplies the college's and Emory University's dining halls and community subscribers.
Marstel-Day projects in Cambridge, UK:
Built and donated bird nest boxes to Milton Country Park for use by a variety of birds, including spotted flycatchers, nut hatches, and lesser spotted woodpeckers.
About Marstel-Day
Marstel-Day is an international natural resource and environmental services management consulting firm that provides innovative solutions to business, government, and nonprofit clients, including: climate and water risk analysis and mitigation, land use/encroachment management, sustainability management, energy planning, and natural resource services. Marstel-Day's 11 offices are located in the Washington, D.C. area, Virginia, California, Texas, Mississippi, Colorado, and the United Kingdom. The company is a sustainable service provider certified under National Standards Foundation, International (NSFI) P391 international standards. http://www.marstel-day.com@MarstelDay #standwithwildlife