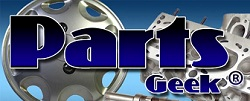 (PRWEB) April 23, 2015
As discussed in an article that was released April 10th, 2015 on USAToday.com, Nissan is recalling over 70,000 2014 Rogue crossovers due to a problem with the model's fuel pump. If left unchecked, there is the potential for the vehicle to stall and some may even find that their vehicle is unable to start. When 2014 Rogue owners bring their vehicle to a dealership to have their fuel pump repaired, the technicians may suggest replacing other parts. However, those who are "do-it-yourselfers" may desire another avenue that will allow them to purchase cheaper replacement parts. One place that 2014 Rogue owners can turn to is PartsGeek.com. In fact, this leading online auto parts retailer is pleased to announce that they are now offering over 1,300 Nissan Rogue parts and accessories.
In addition to offering a wide variety of auto parts for the 2014 Nissan Rogue, Parts Geek also offers them for the 2008, 2009, 2010, 2011, 2012, 2013, and 2015 model years. Some of the auto parts customers will find that they currently have available include but are not limited to: air filters, brake light bulbs, car covers, door handles, fuel pumps, seat covers, washer pumps, and wiper blades. Customers will also find that Parts Geek offers products from leading brands such as A1 Cardone, Centric, Dorman, Husky Liner, and Weathertech.
Potential customers who are curious about the type of feedback Parts Geek has received for their Rogue products will find that the company currently has a 4.9 out 5 star rating. One reviewer, who ordered a Dorman brand control arm, had this to say about his experience with Parts Geek: "One of the best sites to get parts! Shipping is incredibly fast which is what I always need, when I'm doing work on my vehicle. Accurate parts so there's no hassle. I'm very confident in this company and look forward to doing more business with them in the future."
To see Parts Geek's expanded inventory of Nissan Rogue products, please visit their website today.
About Parts Geek:
Parts Geek offers an extensive line of auto parts, performance accessories, and part applications. While focusing on providing the largest supply of replacement parts, Parts Geek also provides the lowest prices on all new, OEM aftermarket and performance parts and accessories. Online, visitors will find an extensive catalogue of new and used parts for all domestic and imported cars and trucks. Since 1996, Parts Geek has been offering customers complete satisfaction with their high quality service. The company's main office is located in Marlton, New Jersey. The main office is open Monday through Friday, from 9 am to 6 pm, and Saturday from 9 am to 3 pm.
To hear more about the company, please visit http://www.partsgeek.com.