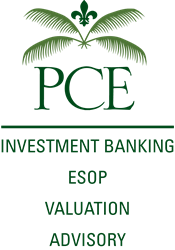 Eric's knowledge of ESOPs and the benefits they provide businesses makes him a key addition to PCE. We are confident that Eric's abilities will further PCE's standing as a leader in M&A and ESOP transactions.
Chicago, IL (PRWEB) April 22, 2015
Michael Poole, who founded PCE in 1996, states, "Eric's background in corporate finance makes him a great fit for our Investment Banking group. His presence in Chicago furthers our commitment to our existing and future Chicago based clients. With offices now located near the metropolitan cities of Orlando, Atlanta, New York and Chicago, we are better able to serve the M&A and business valuation needs of middle-market companies located throughout the Midwest and Eastern half of the country."
Eric Zaleski, former Senior Vice President of a Chicago based bank, joins PCE to enhance PCE's ESOP business development and spearhead PCE's entry into the Chicagoland area. Eric brings extensive experience advising middle market clients with liquidity and growth financing initiatives. Eric, located in PCE's Chicago area office, will continue to focus on providing business owners strategic advice through the implementation and financing of new and existing ESOPs.
Will Stewart, leader of PCE's ESOP practice, states "Eric's knowledge of ESOPs and the benefits they provide businesses makes him a key addition to PCE. We are confident that Eric's abilities will further PCE's standing as a leader in M&A and ESOP transactions."
About PCE Investment Bankers
PCE is a leading financial services firm for mid-market companies, offering clients a full range of investment banking, business valuation and advisory services. PCE delivers support for M&A transactions, Employee Stock Ownership Plans (ESOP), management buy outs (MBOs), bankruptcy and restructuring matters, and fairness and solvency opinion services. Additionally, the firm offers management consulting, succession planning, strategic analysis, and litigation support. PCE has area offices in Orlando, Atlanta, Chicago and New York. (http://www.pcecompanies.com)