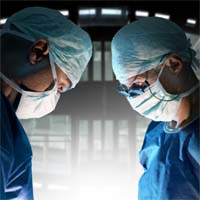 A centralized approach facilitated high volume experience in a single centre with...a reduction in mortality and morbidity...
Raleigh, NC (PRWEB) April 21, 2015
A new study at a British hospital shows that 5-year survival rates among patients with peritoneal cancers like mesothelioma increased by 20 percent over a 20 year period. Surviving Mesothelioma has just posted the results of the study. Click here to read the full article.
Doctors at North Hampshire Hospital in Basingstoke performed a retrospective analysis of outcomes in patients with peritoneal malignancies such as mesothelioma between 1994 and 2014. They found that patients treated during the earliest five-year period had a 5-year survival of 60.7 percent compared to 80.3 percent in the most recent five-year period.
"A centralized approach facilitated high volume experience in a single centre with an increase in the completeness of surgical excision rates and a reduction in mortality and morbidity over time," writes author Brendan Moran, a General Surgeon and Consultant Colorectal Surgeon at Basingstoke and North Hampshire Hospital.
The article, published in the British medical journal Colorectal Disease, found that the surgeons' improved ability to completely remove mesothelioma and other tumors, which is known as complete cytoreduction, had the biggest impact on the improved survival rates.
"This study confirms what others have found – that, when it comes to rare cancers like mesothelioma, it pays to look for centers with the highest volume of patients," says Alex Strauss, Managing Editor of Surviving Mesothelioma.
To read the results of the new UK study and to access additional information about peritoneal mesothelioma, see Surgical Experience Improves Outcomes in Peritoneal Mesothelioma now available on the Surviving Mesothelioma website.
Moran, B, et al, "The results of cytoreductive surgery and hyperthermic intraperitoneal chemotherapy in 1200 patients with peritoneal malignancy", April 16, 2015, Colorectal Disease, Epub ahead of print, http://onlinelibrary.wiley.com/doi/10.1111/codi.12975/abstract
For nearly ten years, Surviving Mesothelioma has brought readers the most important and ground-breaking news on the causes, diagnosis and treatment of mesothelioma. All Surviving Mesothelioma news is gathered and reported directly from the peer-reviewed medical literature. Written for patients and their loved ones, Surviving Mesothelioma news helps families make more informed decisions.