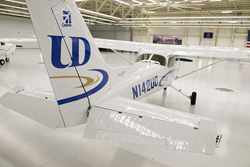 Lakeland, FL (PRWEB) April 21, 2015
Brown Aviation Lease, LLC is pleased to announce its partnership with the University of Dubuque to provide the school with new single and twin-engine flight training aircraft. In the custom lease solution provided by Brown, The University of Dubuque obtained 2014 Cessna 172s in September and will be taking delivery of new Piper Arrows and Seminoles this summer. The Cessnas and Pipers are part of a phased transition into a modern fleet that will keep University of Dubuque students on the leading edge of aviation technology.
"We were looking for a solution that would allow us to modernize our fleet and upgrade equipment while still being able to retain capital for upcoming growth initiatives within the Department of Aviation. Brown's team worked with us to build a custom lease solution that enabled the university to do just that," stated James Steiner, Vice President of Finance at the University of Dubuque.
According to Jason Griswold, Managing Director of Brown Aviation Lease, " We are excited to have the University of Dubuque as a partner. We look forward to our continued partnership and to collaborating with them on future initiatives that address some of the broad challenges facing flight training."
This partnership is the latest example of Brown's long-term commitment to providing budget-conscious lease solutions to flight training programs that are looking to modernize their fleet.
Brown Aviation Lease, LLC:
Brown Aviation Lease is the leading fleet management company for professional flight training organizations. They provide a full platform of fleet management solutions for university and institutional pilot education programs. Founded in 2008, Brown Aviation Lease currently owns and manages over 75 piston aircraft making them one of the largest owners of modern training aircraft in North America. For more information, please visit http://www.brownaviationlease.com.
University of Dubuque
The University of Dubuque, located in Iowa's first city, Dubuque, is a private, Presbyterian, professional University with a focus in the liberal arts. Founded in 1852, the University is a school in three parts: the undergraduate college, the graduate seminary, and the graduate school. The University's welcoming interfaith community of approximately 2,000 students come from across the country and around the globe. Students in the University's aviation program can choose to pursue a BS degree in either Aviation Management or Flight Operations. For more information, please visit http://www.dbq.edu