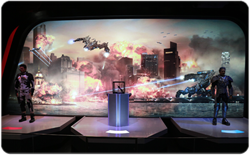 With expertise in professional projection systems for 85 years, Christie has established a global reputation as the leading manufacturer of a variety of display technologies and solutions
Beijing, China (PRWEB) April 21, 2015
Christie®, the global leader in visual displays and audio technologies, is proud to announce that its advanced visual technologies are being used to present the ultimate visual experience to visitors at two new major attractions in the central Chinese city of Wuhan.
Known as the Wanda Movie Park and Han Show Theater, the twin attractions are developed by Chinese conglomerate Wanda Group and are located at opposite ends of the Wuhan Central Cultural District. The three-story Wanda Movie Park, whose architectural design is inspired by "chime bells" from the ancient Chu-Han period, is the first indoor movie theme park in the world. It contains six state-of-the-art multi-dimensional movie rides zones covering different areas of film entertainment such as 4D cinema, 5D cinema, flight theater, immersive theater, interactive theater and space theater.
On the other side, the red Chinese-lantern-shaped Han Show Theater is the ideal location for staging world-class performances, including a new water show directed by theater and performing arts maestro Franco Dragone – best known for the "Cirque du Soleil" shows. The venue combines aerial, aquatic and immersive stage performances to create an electrifying visual and sensory experience for audiences.
Both Wanda Movie Park and Han Show Theater are fitted with close to 160 Christie 1-chip and 3-chip DLP® projectors with resolutions of up to 4K to provide the best possible visual and immersive experience for visitors. The installation of 'all Christie' visual solutions at both venues was undertaken by Christie China partners Wincomn Technology and Starlighting.
Wanda Movie Park
Lin Yu, vice president, Christie Asia Pacific, commented, "With expertise in professional projection systems for 85 years, Christie has established a global reputation as the leading manufacturer of a variety of display technologies and solutions. We are therefore honored and excited to be chosen by Wanda Group to have a wide range of our advanced visual solutions installed in the new Wuhan Movie Theme Park and Wuhan Han Show Theater. At the same time, we're very pleased to work closely with our valued partners Wincomn Technology and Starlighting on the installations, and are optimistic that visitors transported to these exciting worlds are able to enjoy vivid adventures and performances in totally immersive environments."
A spokesperson from Wanda Group added, "As a long-time user of Christie's visual solutions in our cinema multiplexes, we know that Christie delivers the best visual display solutions backed by reliability and performance. That is the reason why we have invested and installed close to 160 Christie projectors in our latest twin attractions in Wuhan. We are confident that Christie's solutions can deliver the exceptional visuals and performance which ensure that visitors to our attractions can experience the magic and excitement of immersive displays."
The extensive range of Christie solutions installed for the exhilarating attractions in all six zones comprising "Ultimate Energy," "The Power of Nature," "Journey to the West," "Streets of Fury, Hubei in the Air," and "Star Journey" theaters at Wanda Movie Park include:

Eight Christie D4K35, which features native 4K (4096 x 2160) resolution, superior DLP® performance and durability.
Twenty-two Christie Roadie HD+35K that produces 35,000 lumens and equipped with Christie's unique, flexible split-body design with separate switching lamp ballast.
Five Christie HD6K-M and four HD10K-M 3DLP® projectors that offer high-performance and rich features, including embedded warping, blending and color matching.
Ninety-six Christie DHD550-G projectors known for their excellent image quality, reliability, low maintenance and costs, as well as Dynamic Contrast that boosts contrast ratio to 5000:1.
Eight Christie DHD675-E projectors, which are ideal for fixed install applications and equipped with a full suite of lenses, input options and 360-degree projection capabilities.
Over at the Han Show Theater, 16 Christie Roadster S+20K DLP® projectors have been installed to produce the most vivid images that augment the world-class performances. With 20,000 ANSI lumens, 3DLP® technology, and purpose-built features meant for the world of rental/staging, the robustly-built Roadster S+20K is ideal for use in the Han Show Theater. Eight units are installed in an arc line to project spectacular visuals that cover the entire stage, while four units of the Roadster S+20K are fitted over the center portion of the stage to project images onto the core stage area. The remaining four units are installed around the theater to enhance the projection effects.
Wanda Movie Park and Han Show Theater have been opened to the public since December 20, 2014. Income for both projects is projected to exceed RMB1.5 billion for 2015, setting a new record for Chinese cultural projects.
About Christie
Christie Digital Systems USA, Inc. is a global visual technologies company and is a wholly-owned subsidiary of Ushio, Inc., Japan. Consistently setting the standards by being the first to market some of the world's most advanced projectors and complete system displays, Christie is recognized as one of the most innovative visual technology companies in the world. From retail displays to Hollywood, mission critical command centers to classrooms and training simulators, Christie display solutions and projectors capture the attention of audiences around the world with dynamic and stunning images. Visit http://www.christiedigital.com.
Follow Christie:
Facebook.com/christiedigital
Twitter.com/christiedigital
Christie® is a registered trademark of Christie Digital Systems USA, Inc., registered in the United States of America and certain other countries.
DLP® is a registered trademark of Texas Instruments.