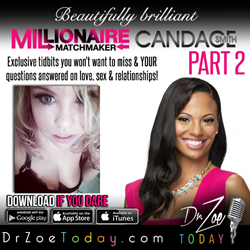 New York, NY (PRWEB) April 20, 2015
Millionaire Matchmaker's Candace Smith returned to Dr. Zoe Today this past Thursday for Part 2 of her "Beautifully Brilliant" interview... and there was no shortage of shock factor. Dr. Zoe Shuster did not disappoint her listeners. Smith gave blunt, one word answers on what she really thought of Millionaire Matchmaker's Season 8 celebrity guests. Candace had given Dr. Zoe Today the exclusive on the infamous kiss between herself and Luke Rockhold when he was a guest to be matched on Millionaire Matchmaker. The former Miss Ohio expressed her frustration with all the media, TMZ questioning her at an event and even confessed to Dr. Zoe that she wanted to invite UFC Fighter Luke Rockhold to a nude beach to "get it on" for a weekend to justify all the media attention surrounding their connection.
The episode is featured in the "Dr. Zoe Today" app and at DrZoeToday.com. Some of the show's highlights have been uploaded onto their YouTube Channel.
The show has many upcoming celebrity interviews in store. This week will feature Bravo TV's star from The Singles Project, Dr. Tabasum Mir. April 30th Dr. Zoe Today will host comedian, MTV Guy Code cast member and host of TruTV's Hair Jacked, Jon Gabrus. Luke Rockhold who Bleacher Report is expecting to take over the UFC Champion Title, has confirmed that he would be on the show as well.
Dr. Zoe is also the President and Founder of Katapult Enterprises, a company that provides VIP Branding, 100% Confidential Coaching and Advising to celebs and International Life Coach Certification.