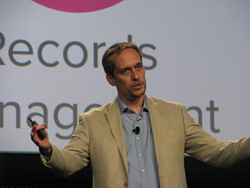 "A world class platform like Perceptive Evolution requires a world class foundation to manage, deploy and scale it to all levels of our global Lexmark customer base. OpenAperture is that foundation."
WASHINGTON, D.C. –
(PRWEB) April 20, 2015 -- News Facts

Lexmark (NYSE:LXK) announced its hybrid cloud management platform, OpenAperture, this morning at Inspire 2015, the company's annual enterprise software conference underway in Washington D.C.
Supporting the Perceptive Evolution platform, OpenAperture will deliver all Lexmark enterprise software components to customers quickly and consistently, regardless of location or workload.
Global Reach. OpenAperture equips applications to automatically and immediately distribute components across the globe. This allows customers to interact with an application from the closest data center, reducing response times for customers in any geographic location.
Rapid Software Release Cadence. By enabling modern techniques such as continuous integration and continuous delivery, OpenAperture empowers development teams to deliver working software at the pace of customer demand.
Streamlined Operations and Security. OpenAperture provides a comprehensive management system to handle the six pillars of cloud management – provisioning, deployment, monitoring, maintenance, security and metering.
Availability. OpenAperture automatically enables regional and provider redundancy, significantly increasing availability. Complex scaling algorithms ensure applications maintain optimal performance at any scale, rebalancing load across multiple regions and cloud providers.
Open Source. OpenAperture is open-source, allowing the platform to be used by others so that Lexmark customers may benefit from code contributions made by the community.
Supporting Quotes
"A world class platform like Perceptive Evolution requires a world class foundation to manage, deploy and scale it to all levels of our global Lexmark customer base. OpenAperture is that foundation," said Brian Anderson, Chief Technology Officer, Lexmark Enterprise Software. "By sharing this technology with the open source community, together we will create a better foundation on which our customers, partners and the open source community can run their products in their own private clouds."
Supporting Resources
Read about Perceptive Evolution, Lexmark's enterprise-grade content platform.
Learn more about building a cloud and data security strategy.
Watch the Perceptive Evolution Platform video.
About Lexmark
Lexmark (NYSE: LXK) creates enterprise software, hardware and services that remove the inefficiencies of information silos and disconnected processes, connecting people to the information they need at the moment they need it. Open the possibilities at http://www.Lexmark.com.
Lexmark, the Lexmark logo and Open the possibilities are trademarks of Lexmark International, Inc., registered in the U.S. and/or other countries. All other trademarks are the property of their respective owners.