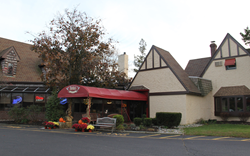 Brielle, New Jersey (PRWEB) April 20, 2015
"Suits or sandals, beach or boardroom," is the motto that Rella's Italian Tavern located in Brielle, New Jersey lives by. Owned and operated by brothers, Sam and Sal Chiarella, the restaurant provides guests with a taste of mom's homemade cooking in a comfortable environment. Named the "Third Best Pizza Joint in New Jersey" in 2014 by NJnews1.com, Rella's Italian Tavern has become a driving force in the local restaurant industry.
Sam Chiarella and his brother Sal first dabbled in the restaurant business working at a pizza shop on the Seaside Heights Boardwalk as teenagers. Following a dream of owning a restaurant together, the brothers opened Italian eatery Fratello's, in Sea Girt, New Jersey in 1997. Their determination to excel led to the success of their newest venture, Rella's Italian Tavern, which opened in 2009 in Brielle, New Jersey.
"Fratello's had a sit down dining room seating and no entertainment; so we transformed Rella's Italian Tavern into a more family oriented place with entertainment ," said Chiarella.
Today, with seating for 200 people and more at two full-service bars, the restaurant serves a variety of Italian and tavern-style dishes ranging from pizza, pasta, burgers and wings.
"Our menu is influenced by our mother who would come and cook homemade dishes that were mixed with her own culinary influence," said Chiarella. "Our wings are most popular, which is where we get our tavern-style from."
Sports fans also enjoy gathering at the bar on game days to watch 16 HD televisions.
"We are very value oriented and offer quality food," says Chiarella. "Our bar area is always crowded no matter the time of year."
Guests are invited to indulge in daily specials including bar games and trivia Monday nights, Timeless Tuesdays, Wine Down Wednesdays, Guy's Night Out on Thursdays, and live music on the weekends. "Beat the Clock" Happy Hour is served every day from 3:00 pm to 6:00 pm. The restaurant also had a celebrity appearance this past February from rock band Lifehouse who played a free acoustic performance for a small number of fans.
"Rella's has something for everyone," said Chiarella. "Whether you're coming from work or off the beach, we welcome all!"
Rella's Italian Tavern is open for lunch, dinner and drinks Monday through Friday from 3:00 pm to 2:00 am; Weekends from 11:30 am to midnight. Take-out and catering services are available. Two private party rooms host up to 60 people. An outdoor patio area will soon be open seating 45 patrons. To place an order or make a reservation, visit http://www.rellastavern.com/index.html or call 732.528.0034.
About Bielat Santore & Company
Bielat Santore & Company is an established commercial real estate firm. The company's expertise lies chiefly within the restaurant and hospitality industry, specializing in the sale of restaurants and other food and beverage real estate businesses. Since 1978, the principals of Bielat Santore & Company, Barry Bielat and Richard Santore, have sold more restaurants and similar type properties in New Jersey than any other real estate company. Furthermore, the firm has secured in excess of $500,000,000 in financing to facilitate these transactions. Visit the company's website, http://www.123bsc.com for the latest in new listings, property searches, available land, market data, financing trends, RSS feeds, press releases and more.