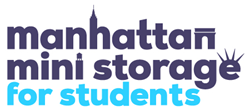 "...having Manhattan Mini Storage, especially their free shuttle, it's really easy to just stuff things in and go and be done with it for the summer." - Lily Wang, Columbia University Student
New York, NY (PRWEB) April 22, 2015
A multitude of things come to mind when people think of New York City. Media Capital. Shopping Mecca. Financial Center. Crossroads of the world, where theater, art and commerce meet and mingle.
But how about college town?
Indeed, with more than a half million college students studying at the city's 100-plus colleges and universities at any given moment, the Big Apple boasts more university students than any other city in the U.S. (And yes – that includes Boston.) In fact, New York State is the nation's single largest importer of college students, meaning that more freshmen leave their home states to attend college here than anywhere else.
"For students that live far from New York or abroad, there's definitely a concern about where they're going to leave their belongings, as well as finding summer housing," says Maria Alba, Columbia's Assistant Director of Accommodation Services. "Usually, they need to find space for their bedding, lots of books and clothing – you know, the winter clothes they're storing for the summer."
Gloriana Lopez, a Barnard freshman, came to the University from Costa Rica. And even though she's staying in New York this summer for an internship, she has to move into a smaller living space. "I'll probably use a storage place," she says. "I'm just looking at prices now because it's very expensive."
Manhattan Mini Storage is one self-storage company that's all too familiar with the student storage crunch. So the company offers special student storage deals for the spring and summer months to accommodate this particular population.
"This year, any college student with valid student ID can store their stuff in a Personal Closet at Manhattan Mini Storage's East Harlem location, on East 110th Street, for just $248 for the entire summer," says Dimitrios Papiris, Vice President of Operations and Business Development at Manhattan Mini Storage. "Plus they get free shuttle service from the Columbia-Barnard campus."
Students in other New York City neighborhoods can benefit from summer storage deals as well. "We're offering 15 percent off any size storage room at any of our 17 locations," Papiris adds. "They can book our free Storage Taxi anytime. And we don't even ask students for a security deposit. We want to make things as simple as possible for them."
Lilly Wang, a Columbia junior from California, chose the latter option. She and a friend are splitting an extra-wide closet at the Manhattan Mini Storage at 107th Street and Amsterdam Avenue for the summer, primarily to store furniture and textbooks. "I really did not want to ship my things back and forth to California this summer," Wang says. "I know a lot of people whose parents come and help them out, or their parents even hire movers. But I've always just been kind of by myself. So having Manhattan Mini Storage, especially their free shuttle, it's really easy to just stuff things in and go and be done with it for the summer."
Of course, many college students choose to simply throw out belongings at the end of the school year, rather than moving or storing them. That's where Columbia EcoReps comes in. The student-run environmental group solicits donations of furniture, electronics and other personal items from students each spring, stores them in space donated by Manhattan Mini Storage, and then makes them available to students moving back into housing during the fall term.
"We hold a green sale," explains Ben Wang, EcoReps Co-President (and no relation to Lilly Wang). "It's a way for students to get used mini-fridges instead of having to go out and buy a new one that's really expensive."
As for the impact of the yearly student exodus on the city, some local merchants say they experience a significant drop when students depart for summer break. Carrie Webster is one of the General Managers at Joe, a coffee shop at 550 West 120th Street – inside Columbia University's Morningside Heights campus. According to Webster, Joe is consistently busy during the school year. But when spring semester ends, "Our sales go down about 3 or 4 thousand dollars per day," she says. "It's quite a difference."
On the other hand, not all campus establishments suffer a drop when the regular students depart. "Actually, when spring semester ends, the summer sessions begin," says Raul Quines, manager of the Heights Bar and Grill, on Broadway at 110th Street. "So there are thousands of new students. In spite of the seeming absence of students at Columbia University, we're actually swinging into our busy season."
Pretty much everyone agrees that the city presents special challenges to both undergraduates and graduates alike. As Quines notes, "I think the biggest challenge for a student to continue living here after graduation is how expensive the city is. Whereas if you go to a small college, you make your home there. You make your nest, and you live there for a long period of time. It's a little different in New York City. People come from different places, and a lot of them who do plan on staying here have a hard time maintaining sanity."
About Manhattan Mini Storage
You probably know them from their subway ads, but Manhattan Mini Storage is a lot more than funny slogans. They were the first self-storage company in Manhattan, opening their doors in 1978. They provide a full range of products and services to meet all their customers' moving and storage needs and offer a complete package of no-fee perks, including off-street parking, package acceptance, hanging rods and shelves, Wi-Fi in the lobby and their famous Storage Taxi, which picks up customers and their belongings anywhere in Manhattan. With 17 locations, Manhattan Mini Storage has become the neighborhood moving and storage solution for over 250,000 New Yorkers.
For more information about Manhattan Mini Storage, visit http://www.ManhattanMiniStorage.com.