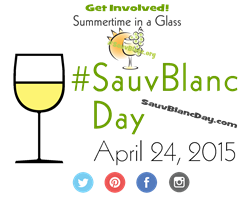 Sauv Blanc fans are, like the wines, delightful, fun and great to be paired up with! We look forward to celebrating vibrant, complex and fresh characters on Sauv Blanc Day, says vintner Michael Kohne of Mercy Vineyards
Cloverdale, California (PRWEB) April 21, 2015
"International #SauvBlanc Day" is set for this Friday, April 24. The event seeks to engage the wine industry and enthusiasts in exploring their affinity for this classic, yet often underrated, grape varietal. Summertime in a Glass, a US-based organization dedicated to promoting Sauvignon Blanc through education, events, and advocacy, is co-sponsoring the day.
"The idea of International #SauvBlanc Day is to connect fans of the grape everywhere," said Bryan Dias, Executive Director of Summertime in a Glass. "That can mean enjoying a special flight at a winery or joining the social media conversation online by sharing thoughts and ideas about Sauvignon Blanc."
California has some of the finest Sauvignon Blanc growing regions in the world including Arroyo Seco in Monterey County, the Livermore Valley, one of the earliest commercial producers, Napa Valley, Sonoma County, Mendocino County and Paso Robles. These regions will all be well-represented on International #SauvBlanc Day.
Numerous events to celebrate International #SauvBlanc Day are taking place in many locations, both domestically and internationally. In doing their part, members of the Carmel Valley Wine Experience, including Bernardus Winery, Chesebro Wines, Mercy Vineyards and others, will be offering complimentary tastings of their Sauvignon Blanc, as well as terrific discounts on the wine in their tasting rooms. By hosting events, wineries, wine shops and others are serving as "Sauv Blanc Ambassadors" and offering their audiences a chance to enjoy the grape in an up-close and personal fashion.
Mike Kohne, Vintner, and co-founder of Mercy Wines in the Arroyo Seco region of Monterey County, California likes to say, "Sauv Blanc fans are, like the wines, delightful, fun and great to be paired up with. We look forward to celebrating vibrant, complex and fresh characters on Sauv Blanc Day!"
International Sauv Blanc Day was initiated six years ago by Napa's St. Supéry Estate Vineyards and Winery, a top producer of California Sauvignon Blanc. Last year, Summertime in a Glass, along with New Zealand Wine, came on-board to broaden the reach of International #SauvBlanc Day. Each year the event has grown in popularity with increased participation online. The scope has also expanded to include special tasting events put on by wineries, retailers and others in the industry.
For those interested in participating online on April 24, individuals can tag posts on Twitter, Facebook, Instagram, and Pinterest with "#SauvBlanc." The hashtag can also be searched and followed on those platforms as way to see what others are saying. People are encouraged to share food pairing ideas, photos relevant to the varietal, favorite memories, and more. Purchasing and enjoying a bottle or two of Sauvignon Blanc and posting photos of the experience, thoughts, and tasting notes is another great way to get involved. Participation ideas, social media feeds, and more can be found at SauvBlancDay.com.
More:
Summertime in a Glass (SIAG) is an advocacy and information group that seeks to promote, educate and entertain wine enthusiasts and the industry itself on the world of Sauvignon Blanc. We strive to do so by being informative, yet never too serious or dogmatic. Wine is fun and social. Sauvignon Blanc is known as a great food wine but many styles also make for great "porch wines." This all means that it is meant to be shared and enjoyed, not pontificated!
Summertime in a Glass Homepage – http://www.SauvBlanc.org
Event Homepage – http://www.SauvBlancDay.com
More on the Event: http://www.sauvblanc.org/international-sauvblanc-day-april-24-2015/