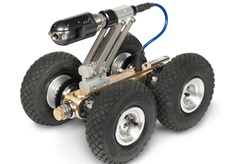 It is a sturdy, reliable, and what's important – affordable – pipe crawler
(PRWEB) April 21, 2015
Today, Medit, Inc. announced immediate availability of the STORMER S3000 Pipe Crawler. The new device with highly modifiable design offers users convenient and quick access to different diameter pipelines and makes long-range inspections more efficient.
"STORMER S3000 was designed and manufactured in England, using innovative materials, optics and electronics. It is a sturdy, reliable, and what's important, affordable pipe crawler that allows users to examine pipelines at double the speed of a conventional inspection device", said Terry Peristerakis, Sales Manager at Medit, Inc.
Outstanding Features
The new device is an ideal choice for long-range inspections of pipelines with diameters from 150 to 1000 mm (5.9"-40") up to 250 meters (820') long. It is a powerful 5 speed 4-wheel drive that allows users to significantly save time and get to the problem area much quicker. It is easy to set up, operate and transport.
As to the optics,the Stormer S3000 pipe crawler features a pan-and-tilt camera with continuous rotation and highly sensitive (0.5 lux) CMOS image sensor. High-output LED light illumination can be adjusted, depending on the inspection settings. Stainless steel housing with Aluminum anodized finish protects the camera from bumps, rigors and water intrusion and withstands up to 5.5 bar pressure.
Camera's operation is easily controlled by means of the control unit with a monitor, keyboard and convenient silicon rubber controls packed in a robust and portable Pelican case. The display is a LED back-lit 10.4" TFT flat panel monitor with 800x600 resolution that enables operators to see every detail of the pipeline interior. The system allows for text input (up to 6 pages) and uses WinCan compatible software. Inspection data can be saved in MPEG2 format to the hard drive or a USB-stick.
The STORMER S3000 works with a 200 m (656') durable multicore, Kevlar-braided insertion cable. 250 m (820') can be supplied on request.
The crawler comes with several wheel sets for different pipe diameters and has two camera connectors: one in the front – to inspect smaller diameter pipes, and one on top – for bigger diameter pipelines. All adjustments are very easy to make and take a short time. Optional accessories include an inclinometer that informs users of the pipe gradient.
The system works on 110v or 240v mains or 1KVA generator power inlet.
The STORMER S3000 Pipe Crawler, is one of the most versatile, durable and affordable viewing tools among devices of its class.